531 C+
Year Released: 2001
MPAA Rating: Not Rated
Director: Rob Goodman
Writer: Tom Brown
Cast: Ruben Rabasa, Jennifer Healey, John Early, Suzanne Kovi.
Shot entirely from the inside of a checkered taxicab (number 531), this indie film's fusion of psychological drama and silly humor doesn't quite work, but at least it's an interesting failure. The driver is Jesus (Ruben Rabasa), a slightly unhinged but generally mild-mannered guy, while his passengers are an overbearing voice coach (John Early) and the aspiring singer (Jennifer Healey) he's training, along with a psychotic pregnant woman (Suzanne Kovi) who's packing a pretty big gun. Before the night is over, sweat, vomit, semen, and blood will be sprayed, in varying degrees, all over the cab.
Inside the cab is like a carnival funhouse of doo-dads and knickknacks, dolls, playing cards, and other things left behind by passengers long ago. While 531 is never boring (it's a relatively quick 72 minutes), the movie suffers from a severe identity crisis. It wants to be a dark psychological character study, but it's often hampered by a silly sense of humor that doesn't quite fit.
Still, director Rob Goodman and screenwriter Tom Brown deserve praise for their ingenuity and for getting a steady momentum going in a film shot completely from inside one small space. The cast is decent, too -- with Kovi a standout as the psychotic pregnant woman who kicks the ride into gear. While 531 was named Best American Film at last year's New York Independent Film & Video Festival and, sure, it's an ambitious film made by talented folks, I can't see it as much more than an interesting failure.
Review published 06.13.2002.
Follow Michael Scrutchin on Twitter or Letterboxd.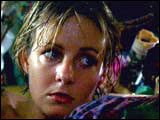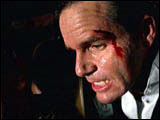 ---

---