Acacia B-
Year Released: 2003 (USA: 2005)
MPAA Rating: R
Director: Park Ki-hyung
Writer: Sung Ki-young, Park Ki-hyung
Cast: Shim Hye-jin, Kim Jin-geun, Moon Woo-bin.
Japan wasn't the only Asian country to experience a horror boom in the late '90s. With Park Ki-hyung's Whispering Corridors (1998) and the thematically similar Memento Mori (1999) leading the way, South Korea began producing a seemingly endless stream of brutal serial-killer thrillers, twisted supernatural dramas, and chilling ghost stories, many of which have secured English-language releases. Inevitably, several have been selected to receive the remake treatment. Park, the man credited with kick-starting the new wave of Korean horror, returns to the dark and supernatural with Acacia, his eagerly awaited third film. Thanks to the title and an over-enthusiastic publicity campaign, Acacia has been described as a horror film about an evil tree, apparently along the lines of William Friedkin's The Guardian (1990). While the tree does occupy a minor, semi-supernatural role, it's largely secondary to the human drama that makes up most of the film.
Having failed in all their attempts to achieve pregnancy, Mi-sook and Do-il, a successful married couple, decide to adopt a young boy called Jin-sung. Unsurprisingly, Jin-sung is shy and introverted, preferring his own company to that of his new parents. Mother and father struggle on, exasperated by their failure to establish an emotional link with the boy. The situation becomes noticeably worse when Mi-sook unexpectedly becomes pregnant; Jin-sung fears that he will be replaced by the new child and does his best to get rid of it. The tension becomes unbearable, and eventually the boy runs away while his adoptive parents try to put their lives back together. A missing child isn't their only problem, however, and putting their lives back together will be much harder than they think.
It's not hard to see why Acacia hasn't been well-received by Western critics. The plot spends a substantial amount of time examining the emotional difficulties of the couple and their adopted son, often coming across as a melodrama rather than a horror film. The supernatural elements are unclear and ambiguous, leaving the viewer unsure whether anything otherworldly has actually happened. The pacing is deliberate and slow, even by Asian standards. On the whole, it's a difficult film for the casual viewer to appreciate.
Once you know you're not in for a visceral thrill ride of epic proportions, however, Acacia is a gripping film. For a start, Park is adept at cranking up the tension, imbuing seemingly pedestrian scenes of family life with a dark and sinister undercurrent. Without being explicit or obvious, he manages to convey a sense of foreboding that keeps the viewer waiting for the conclusion. There's no big twist, because Park wisely concentrates on the characters rather than depending on some left-field revelations at the end. It's a risky strategy, especially in a film with such a small cast. Thankfully, Park's characters are well-drawn and engaging, if a little sinister at times. Even though it's not hard to predict what's going to happen, the climax still packs an emotional punch that's likely to stay with the viewer for some time. It's not likely to have the same relatively wide appeal as (for example) A Tale of Two Sisters (2003) and Whispering Corridors, but Acacia is still a superior example of the Korean psychological horror film.
Review published 07.11.2005.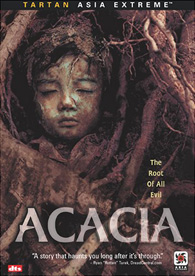 ---

---