Along Came a Spider C
Year Released: 2001
MPAA Rating: R
Director: Lee Tamahori
Writer: Marc Moss (based on the novel by James Patterson)
Cast: Morgan Freeman, Monica Potter, Michael Wincott, Michael Moriarty, Penelope Ann Miller, Jay O. Sanders, Dylan Baker.
In some ways, seeing a bad movie is preferable to seeing a merely mediocre one. With a bad movie, you have a story. You can find your friends afterwards, buy them a drink, and say, "You'll never believe the gobbling turkey I just saw!" It becomes memorable in its own sad way, something you can laugh about for a long time. A mediocre film, on the other hand, simply comes and goes. It occupies two hours of space in your life for comparatively little return. Once it's gone, you struggle to remember anything about it that might make the time well spent. A bad movie can be a source of constant fun; a mediocre one simply vanishes, never to be seen again.
Along Came a Spider is spared that fate only by the presence of Morgan Freeman, who as detective Alex Cross, possesses the right combination of sharp intelligence and warm-eyed empathy to make him memorable. Cross is a warmer, fuzzier version of Freeman's character in Seven -- a battered and weary do-gooder who must contend with the worst humanity has to offer. Cross has appeared on-screen once before (in 1997's Kiss the Girls), and like that previous outing, he's all that keeps us from zoning out entirely.
After a promising opening sequence (and some fairly nifty credits), Along Came a Spider settles into an utterly conventional mystery featuring by-the-numbers plot twists and predictably fiendish bad guys. It starts when an Ingenious Psychopath™ (Michael Wincott) kidnaps the daughter of a U.S. Senator. Naturally, he has more on his mind than money; he envisions a brilliant cat-and-mouse game with famous criminal profiler Alex Cross, thus guaranteeing his media-driven immorality. So he calls Cross up with some important clues and the hunt is on. Luckily, the detective isn't alone. The spunky Secret Service agent (Monica Potter) originally assigned to protect the girl tags along as well, hoping to gain some measure of redemption and providing a cute double-shot for the promotional poster. We follow the story from one route suspenseful moment to the next, waiting for something -- anything -- new or different to arrive.
Nothing does. It moves through a few terse set pieces, a lot of conversations along the "he has more in mind than just a kidnapping" variety, and some fairly embarrassing Internet twaddle, but never really grips us or holds us in thrall. With the post-Silence glut of serial killer films, it takes a lot to make an impression, and Along Came a Spider lacks that all-important spark. Everything about it feels standard issue, from the rain-soaked Washington streets to the requisite final standoff. Director Lee Tamahori never does anything wrong, yet he fails in infuse the story with any real passion or interest. Wincott has a been a truly great bad guy in the past, yet he seems strangely bland here, while Potter has little to do but play Girl Friday to Freeman's master sleuth. Even the twists feel standard issue. While the film has a lot of double backs and surprises, they come with the regularity of a train schedule. You can feel them approaching far in advance, which robs them of any resonance. The final "shocking" revelation works well in that it's tough to see coming, but it lacks the requisite emotional punch. It happens for no other reason than the plot dictates a whiplash at that particular point. Almost all of Along Came a Spider works the same way.
Of course there's always Freeman, one of our greatest actors who has struggled recently to find a part worthy of his talents. He seems tailor-made for Cross, and his natural intelligence makes him an ideal choice on a chase like this. Every time he's on the screen, you smile, waiting for him to make some brilliant deduction or clever insight. In his hands, the mechanical plot exposition actually sounds like a legitimate mystery, one only the most brilliant detective could crack. Would that the rest of Along Came a Spider matched his quiet power. For a film so resolutely run-of-the-mill, it has a hell of an engine at its heart. It's a pity that such forgettable workmanship doesn't have the legs to keep up with its star.
Review published 04.09.2001.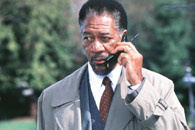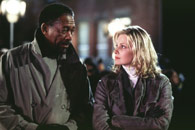 ---

---