Amélie A-
Year Released: 2001
MPAA Rating: R
Director: Jean-Pierre Jeunet
Writers: Jean-Pierre Jeunet, Guillaume Laurant
Cast: Audrey Tautou, Mathieu Kassovitz, Rufus, Lorella Cravotta, Claire Maurier, Urbain Cancelier, Michel Robin, Dominique Pinon.
Amélie is a beautifully realized and uplifting modern-day fairy tale that owes much of its irresistible charm to the adorable charisma of its star, Audrey Tautou. As Amélie, a young woman who becomes intent on making the people around her happy, Audrey Tautou is a revelation. While many actors try to be charming and lovable to no avail, Tautou is both with seemingly little effort. Maybe it's her big dark eyes or her quirky smile. In any case, she's all genuine charm and no pretense.
The film starts with a fast-paced and often hilarious sequence detailing Amélie's birth and early childhood, which is told mostly through narration and striking images. Amélie's father, a doctor, doesn't show young Amélie any love or affection and her mother is killed by, um... well, I don't want to spoil that little surprise. I'll also refrain from spoiling the fate of the suicidal goldfish. Anyway, she has a relatively lonely childhood and when we catch up with her as a young adult, she's a shy waitress at a coffee shop in Paris. Many of the coffee shop's regulars are amusing eccentrics, especially the guy who sits in to watch his ex-girlfriend and make strange comments into his cassette recorder detailing her actions.
The story really kicks into gear, though, after Amélie hears the news of Princess Diana's death, the shock of which causes her to drop a bottle cap that rolls across her bathroom floor and knocks loose a tile in the wall. Hidden away in there is an old tin box containing childhood treasures that must have been put there by a little boy a long time ago. Amélie makes a life-changing decision as she lies in bed that night. She'll track down the man who hid that box away as a child and return it to him. If it makes him happy, she'll dedicate her life to orchestrating events to make people happy. If it doesn't make the man happy, to hell with it.
Rest assured, it works.
The film works, too, at being just as cute, twisted, and uplifting as it sets out to be. It's not hard to see why this film has become so popular among moviegoers (and critics) so quickly. But Amélie does have its small but vocal share of detractors who claim that it's too slight and sugary, a candy-coated film that may look great on the surface but is empty on the inside. And, yeah, the film's themes are accessible and relatively simple, but that's part of its beauty. It's so easy to enjoy for its simple charms that it doesn't matter that it's not especially deep. It's just an incredibly joyful movie that's near impossible not to fall in love with.
Amélie is directed by Jean-Pierre Jeunet, who co-directed (with Marc Caro) Delicatessen and The City of Lost Children in France, then came to the United States to direct Alien: Resurrection. After that, Jeunet returned to his old stomping ground and turned out this sparkling gem of a movie. While Amélie may not be as visually bizarre as the wonderful City of Lost Children, it has plenty of striking visuals and surrealistic flourishes that seem completely at home in the fairy-tale Paris Jeunet has created. After all, this Paris is cleaned up and wrapped in a nice, colorful package, since street cars have been digitally erased, graffiti has been edited out, and drab, fading posters on brick walls have been replaced by more lively, colorful ones. Jeunet's Paris feels every bit as alive as the quirky characters who inhabit it.
I'll be the first to admit, though, that at two hours in length, Amélie does go on a bit longer than it should. For one thing, it's far too long into the movie when Amélie starts her good-natured machinations on her love interest Nino (Mathieu Kassovitz), a young guy who works at a pornography shop and collects photo booth photographs and pieces them together into strange collages. We know from the start that Amélie and Nino are supposed to be together, but it takes them a bit longer to figure that out. Even then, they must endure a seemingly endless but wonderfully involving game of cat-and-mouse throughout the funhouse of Paris if they ever want to be together.
Amélie is probably the most easily enjoyable movie of the year, a ragtag blend of surreal images and good-natured, quirky charm that's both visually and emotionally intoxicating. It's a feel-good movie, but it's pulled off with more cinematic virtuosity and imagination than any film in recent memory that tries to succeed on the same terms. The film's pleasures are simple to be sure, but I'll be damned if I didn't feel like I was walking on clouds after seeing it. Audrey Tautou as Amélie is endearing and effortlessly charming, much like the movie itself. When Amélie turns to the camera and smiles, you'd be hard-pressed not to smile right back.
Review published 11.26.2001.
Follow Michael Scrutchin on Twitter or Letterboxd.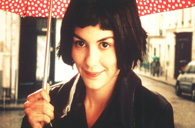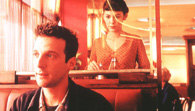 ---

---