Bandits B
Year Released: 2001
MPAA Rating: PG-13
Director: Barry Levinson
Writer: Harley Peyton
Cast: Bruce Willis, Billy Bob Thornton, Cate Blanchett, Troy Garity, Bobby Slayton.
Where the hell was this film in July? Bandits is what fluffy summer movies are supposed to be: the witty party guest who shows up, knocks everyone off their feet, and whisks away before overstaying his welcome. It got lost somewhere along the way, abandoning us to the horrors of August before finally popping up here. Check your calendar, boys; we needed this one a long time ago.
Not that there's anything overly special about Bandits, a buddy-caper flick from the old school that could have been made any time in the last 80 years. It relies on old standbys like wit and charm, rather than ponderous special effects or event marketing. Breezy, light, and eminently disposable, it nevertheless makes a genuine effort to entertain us, instead of just trusting the ad department to put our butts on the seat. It helps to have a director like Barry Levinson, whose talents always lay in comedy despite occasional leanings to the contrary. Levinson has little on his mind beyond a few hours of fun, but cares enough to find a clever script and develop it well: something the rest of Hollywood rarely bothers with anymore.
The premise hangs on a pair of Oregon bank robbers, hypochondriac Terry (Billy Bob Thornton) and impulsive Joe (Bruce Willis), who escape from prison almost on a whim. Terry soon concocts a near-foolproof method of practicing their chosen profession, leading to a string of successful heists and a nationwide reputation as "the Sleepover Bandits." They intend to work their way down the coast, robbing banks along the way until they reach Mexico, when they will presumably have enough money to retire. Then trouble shows up in the time-honored form of a dizzy redhead (Cate Blanchett), who drops into their laps and somehow manages to fall for both men at once.
In another lifetime, this would have starred Cary Grant and Clark Gable, with Katherine Hepburn providing the romantic foil. Bandits retains that old-fashioned sensibility, which neatly compensates for its overly familiar formula. It helps to have some genuine wit in your corner. The robberies display their fair share of cleverness, and Levinson manages to pull off three or four variations of the same shtick without losing his touch. The humor relies somewhat on slapstick, but finds its biggest laughs amid the dialogue and character affectations. Most of the conversations fall into the "amusing bickering" category, elevated by a trio of charismatic performers who know how to set the proper tone. Willis used to eat light comedy for breakfast, and Blanchett thoroughly enjoys her Lucille Balle turn, a big change from her recent dramatic roles.
But the real surprise is Thornton, best known for much more intense work. He proves a natural adept at both verbal timing and physical pratfalls, making Terry the comedic centerpiece of the film. In lesser hands, the character might have fallen apart -- they push the hypochondria angle constantly, threatening to collapse it into a bad gimmick. Thornton, however, crafts it into a genuine affectation, rescuing the humor while deriving a plausible character from the results.
His efforts closely mirror the rest of Bandits. It constantly flirts with banality, but always skirts away before tedium sets in. At times, you can feel cloying predictability creeping around the edges -- a too-cute line, an artificial plot twist, some annoyingly picturesque cinematography. But Levinson knows this dance too well, and never lets the material falter for long. Bandits also maintains an old-fashioned sense of morality: sex is implied but never shown, the violence never leaves Keystone Kops territory, and there's nary a fart joke to be seen. In another era, it might seem prudish; now, it's disconcertingly refreshing. With everything from Dog Day Afternoon to It Happened One Night in its path, Bandits can't hope for any real originality, but hard work and intelligence can sometimes make an adequate substitute. Frothy and light as air, it will doubtless float away after a few weeks, but for now, it's awfully nice to have around.
Review published 10.14.2001.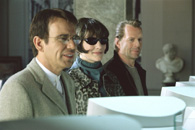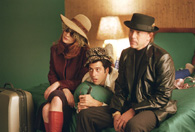 ---

---