Batman: Gotham Knight B+
Year Released: 2008
MPAA Rating: PG-13
Directors: Yasuhiro Aoki, Futoshi Higashide, Toshiyuki Kubooka, Hiroshi Morioka, Shoujirou Nishimi
Writers: Brian Azzarello, Alan Burnett, Jodran Goldberg, David Goyer, Josh Olson, Greg Rucka
Cast: Kevin Conroy, Gary Dourdan, David McCallum, Parminder Nagra, Ana Ortiz, Jim Meskimen, Corey Burton, George Newbern.
A few of you may be aware that Warner Bros. has a little art-house movie coming out next week about an obscure vigilante and his proclivities for winged rodents. As a part of their minimalist promotional efforts, they have timed the release of a direct-to-DVD animated movie alongside of it, featuring more adventures of that selfsame vigilante. Batman: Gotham Knight is intended primarily as marketing by other means, but luckily for us, it works exceptionally well as a movie all its own. Much of the credit for that goes to executive producer Bruce Timm and his team: the minds behind the incredibly successful DC animated series of recent years, as well as the current line of DC-based DVDs (of which this is the third). They never made a secret about who their favorite hero was, and Gotham Knight benefits immeasurably from that love.
It consists of six short vignettes, bound together into a loose narrative, yet each more or less able to stand on its own. The intention is to show Batman in a new and different light without deviating from the core essence of the figure. In the process, it combines several heretofore unconnected concepts in a thoroughly delightful way. The animation style is pure Japanese -- not quite anime, but overseen by six noted Asian directors and reflecting the stylized realities favored by that genre. The setting stems from Christopher Nolan's two most recent Batman movies, with specific figures culled from his work and references to events such as "the incident in the Narrows." (It appears to act as a rough bridge between Batman Begins and The Dark Knight the same way that The Animatrix did for its live-action trilogy.) The scripts were penned by a number of noted Batman contributors, including David S. Goyer (who co-wrote the screenplay for Begins) and Alan Burnett (longtime collaborator on Batman: The Animated Series). Best of all? Actor Kevin Conroy -- who appeared in most of Timm's projects and whom many fans think could give Christian Bale a run for his money -- returns to provide the voice of the Dark Knight in all six pieces.
The presence of so many disparate ingredients could have turned into a big mess, but they fuse together quite nicely here, allowing for a broad thematic range while still remaining definitively Batman-esque. The weakest segment is the first, entitled "Have I Got a Story for You." It's a riff on the old folk tale of the blind men and the elephant, with a group of skateboarders discussing their encounters with Batman (each believing their version to be the "real" Dark Knight). The idea has been done before -- including a brilliant episode of the Batman animated series -- and despite some stunning animation from director Shoujirou Nishimi, does little to improve upon its predecessors.
Things quickly pick up, however, with the second sequence -- "Crossfire" -- which depicts skeptical members of the Gotham police department who still don't trust the caped vigilante in their midst. "Field Test" further explores the contributions of mechanical genius Lucius Fox (voiced by Kevin Michael Richardson) to Batman's arsenal, while "In Darkness Dwells" covers a terrifying slugfest between Batman and two villainous standbys -- the Scarecrow (Corey Burton) and Killer Croc (George Newbern). "Working Through Pain" displays an early incident in Bruce Wayne's training -- before he fell in with Liam Neeson's League of Shadows -- and "Deadshot" finishes things up with a climactic showdown against the titular assassin (Jim Meskimen).
With the exception of the first piece, they all hit their marks well, combining a strong sense of visual energy with an interesting meditation on Batman's motivation and development. Before Nolan came along, Timm and his crew were the only people who seemed to care about those elements. Stunt casting and movie-star indulgence dominated the early movies, ignoring the name in the title to the point where the entire franchise came close to collapse. To be sure, Gotham Knight has its share of high-concept gimmickry as well, with its Japanimation visual palate and divvied-up storyline. But the images on display are so awe-inspiring that the justification behind them becomes moot. They deliver a Gotham that is part Nolan, part Blade Runner, and yet entirely the product of the six directors involved. Their segments demonstrate how the same basic style can feature an impressively varied palette, while Conroy's always-exemplary vocal work provides a common thread to hold it all together. The landscapes are hypnotic and the action sequences quite imaginative, but Conroy and the screenwriters never let us forget the compelling figure at the center of it all.
At 76 minutes, Gotham Knight is a little slim, and the dearth of added features on the DVD feels like a letdown as well. An interesting audio commentary makes up some of the lost ground -- with insight from both Conroy and legendary DC Comics guru Denny O'Neil -- but the promotional needs of The Dark Knight seem to have kept the bells and whistles to a minimum in order to ensure a timely release. Thankfully, Gotham Knight doesn't need any boosts to make for worthwhile viewing. Those sick to death of the Batman hype may wish to hold off until things calm down a bit -- one more movie right now can be a bit much for even the biggest fans -- but I suspect its vision of DC's poster boy will age as well as Nolan's. When people who love a great character set out to do him justice, the results are worth any wait. Synergistic product promotion Gotham Knight may be, but the people behind it treat their efforts as anything but disposable.
Review published 07.13.2008.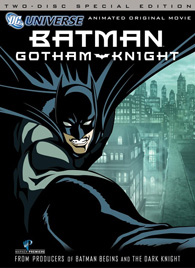 ---

---