Battle Royale II B-
Year Released: 2003
MPAA Rating: Not Rated
Directors: Kenta Fukasaku, Kinji Fukasaku
Writer: Kenta Fukasaku
Cast: Tatsuya Fujiwara, Ai Maeda, Shugo Oshinaro, Ayana Sakai, Natsuki Kato, Riki Takeuchi, Haruka Suenaga, Yuma Ishigaki.
Veteran director Kinji Fukasaku died on January 12, 2003, leaving his final film, Battle Royale II, unfinished. His son Kenta, writer of both films, took the reins to finish his father's work. Battle Royale II therefore is a film almost weighed down by expectations -- is it is good as its predecessor? Can Kenta Fukasaku successfully follow in his father's footsteps? Is it a fitting requiem for a truly unique director?
Three years have passed since Nanahara and Noriko escaped from the island. Since then, Nanahara has begun a guerrilla war against the Japanese state, the adults that sent them to their deaths as a lesson to rebellious youngsters. In an effort to deal with Nanahara and his supporters, the Japanese government has created the Millennium Anti-Terrorism Act -- Battle Royale II. This time, the 42 classmates are armed and sent to attack Nanahara's stronghold. They're saddled with new collars that link one male to one female, killing the other should one die, or killing both if they stray more than 50 meters apart. After the initial combat, however, both sides join forces, since Nanahara has a way to deal with the collars. Japanese Special Forces arrive to deal with the insurgents and the final battle begins.
Despite the obvious similarities, Battle Royale II is a radically different movie to its predecessor. There are no heroes this time around. Nanahara is a worthless leader, paralyzed by his inability to either commit to all-out war or withdraw entirely. He claims to be acting in defense of the abused and exploited youth of Japan, but by the time he realizes who he's fighting there are only a dozen or so contestants left. More than 20 are left dead on the beach, gunned down by his men (who are also still young) as they run for cover. Nanahara only becomes truly heroic when he and a handful of others engage the soldiers to allow the women and children to escape.
Battle Royale allowed its heroes to take the moral high ground; they killed only out of necessity and never willingly. The sequel does not do its characters any such favors. Nanahara and his supporters are terrorists. Their cause has some justice to it, but it's hard to rationalize the innocent lives that have been lost in their attacks on urban areas. The Japanese government develops even harsher methods to deal with society's problems, still unable to understand their children, let alone control them. This makes for grim viewing, but you can't accuse Kenta Fukasaku of treading the same ground twice. There's a definite logical progression to the events, building on the first film, rather than simply reworking the best moments.
As creative as these developments might seem on paper, it must be said that the film cannot sustain interest for its entire running time. The first hour is gripping and intense, particularly the beachhead invasion, which makes great use of handheld cameras and digital video techniques. Unfortunately that gives way to quieter scenes involving Nanahara's wistful monologues and a certain amount of boredom. Trimmed by 25 to 30 minutes, the film would have swung neatly from one battle scene to another, and would have been much more palatable.
The film's greatest misstep is the handful of references to the U.S. At the end of the film it seems that the U.S. military has stepped in, angered by the Japanese government's failure to deal with its domestic terrorists. Apparently, the Millennium Anti-Terrorism Act is a last-ditch attempt to find a solution before the Americans take action of their own. This idea needlessly tries to shift the blame from the Japanese government to the U.S., and it doesn't work particularly well. Besides, it anchors the film in a definite time period, whereas the first existed in an unspecified era that I suspect imbued it with a longer shelf life than the sequel.
It will come as a surprise to few that Battle Royale II does not match up to the quality of its predecessor. However, the first half is well-constructed and interesting, and should impress fans of the first movie. Although the second half does not live up to that early promise, Battle Royale II remains a worthwhile achievement that Kenta Fukasaku should feel rightly proud of. Fans of Asian cinema should also keep an eye out for a cameo appearance by the mighty Sonny Chiba.
Review published 02.05.2004.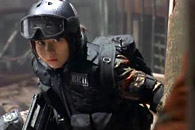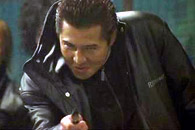 ---

---