Billy Liar A
Year Released: 1963
MPAA Rating: Not Rated
Director: John Schlesinger
Writers: Keith Waterhouse, Willis Hall (based on the novel by Waterhouse and the play by Waterhouse and Hall)
Cast: Tom Courtenay, Julie Christie, Wilfred Pickles, Mona Washbourne, Ethel Griffies, Finlay Currie, Gwendolyn Watts, Helen Fraser, Leonard Rossiter, Rodney Bewes, George Innes, Leslie Randall.
How many of us go about workaday lives, dreaming of a better, happier life, but don't have the courage to stray off the road directly in front of us? Sure, it's tempting. There's got to be something better out there, right? And we can dream. Oh, yeah, we can lie in bed and dream all day about what life would be like if we were adored by everyone, had more money than could ever be spent, and were just blissfully happy. But do we ever do anything about it? No. It's too scary. And it's so easy to stay on the drab, seemingly dead-end road we're on, even if we're not truly happy. But at least we can dream.
Billy Fisher (Tom Courtenay), the main character in John Schlesinger's Billy Liar, is this kind of dreamer. As the film begins, he's lying awake in bed, dreaming of being the universally adored leader of his own imaginary country, Ambrosia. Billy is snapped out of this fantasy by his mother (Mona Washbourne) yelling for him to come down and eat breakfast. Back to reality. Bummer. Billy is about 20 years old (maybe a few years older), but he still lives with his folks, holding down a nine-to-five as a mortician's clerk. He dreams of being a writer, but he can never find the time to sit down and write anything.
Billy is too busy juggling the two girls he's engaged to. There's Barbara (Helen Fraser), who's sweet, virginal, not-too-bright, and wearing the engagement ring. And there's Rita (Gwendolyn Watts), who's pissed because Billy hasn't put a ring on her finger (he tells her it's at the jewelers). Well, the girls don't know about each other. Yet. And Billy actually has his sights set on a free-spirited girl named Liz (Julie Christie), who has recently arrived back in town after being away for awhile. What's a guy to do?
And I haven't even mentioned the money Billy stole from work and the 250 missing Christmas calendars. The film spans one day in the life of Billy Fisher, and needless to say: Billy's got quite a day ahead of him.
I could gush for hours about how much I loved this movie. Billy Liar is an absolutely delightful, thoroughly engaging, and sharply poignant comedy that still seems relevant and fresh today. Part of the British New Wave, it was released in 1963, but American audiences didn't take much of a liking to it. Maybe it's the quirky British accents, which can be tough to understand at times, or the fact that the main character is, for the most part, quite the jerk (but a lovable jerk, as Tom Courtenay gives Billy an irresistible charm). Whatever the case, American audiences in 1963 missed out on one sparkling gem of movie.
Directed by John Schlesinger (Midnight Cowboy), the film has a ragtag, spunky feel to it. It's rare that a film ever feels truly alive, but Billy Liar is alive and breathing -- and having a great time, too. Billy's fantasy sequences are inspired and often hilarious. Whenever Billy gets into a jam (whether it be his parents nagging him, his boss threatening him, or his girlfriend screaming at him), he imagines mowing them down with a machine gun and a smile.
As Billy, Tom Courtenay is an absolute riot, yet he never lets the character sink into simple caricature or self-parody. We always believe in Billy as a real person, which is especially important when the film starts to turn a bit more serious and emotional towards the end. Courtenay's performance alone is reason enough to see the movie, but the entire cast deserves kudos. And although Julie Christie's screen time is probably less than 20 minutes, she steals every scene she's in. She's dazzling. Just like Courtenay and the rest of this blessed, funny, delectable, touching movie.
Billy Liar is available on DVD from the Criterion Collection sporting a new, sparkling clean black and white widescreen transfer. There's an audio commentary featuring director John Schlesinger and stars Tom Courtenay and Julie Christie. Each person's commentary was recorded separately, something I'm not particularly fond of because it's more fun when they're all in the same room chatting about the film, but it's a pretty solid commentary nonetheless. The theatrical trailer is on the disc, as well as a 15-minute excerpt from an episode of the BBC series Hollywood U.K.: British Cinema in the Sixties, which features recent interview footage with Schlesinger, Courtenay, Christie, and writers Keith Waterhouse and Willis Hall. Good stuff. It's got me wanting to see Schlesinger's first film, A Kind of Loving.
Now it's time for me to start gushing about Billy Liar again. Never mind. I'll spare you. Just let me say this: this film is for anyone who's ever dreamed of something better. And especially for dreamers who've discovered that opportunities to escape their drab realities are almost too scary to face. After all, what is there left to dream about when our dreams become a reality?
Review published 08.02.2001.
Follow Michael Scrutchin on Twitter or Letterboxd.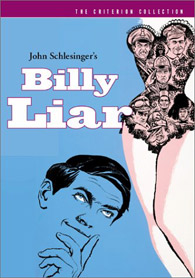 ---

---