Black Christmas B-
Year Released: 2006
MPAA Rating: R
Director: Glen Morgan
Writer: Glen Morgan
Cast: Katie Cassidy, Mary Elizabeth Winstead, Lacey Chabert, Michelle Trachtenberg, Oliver Hudson, Andrea Martin, Crystal Lowe.
It's no secret that Glen Morgan's remake of Bob Clark's proto-slasher cult classic is facing something of an uphill struggle. Like most remakes, it has been the subject of scathing attacks from the notoriously touchy horror community. Morgan's previous directorial effort, the 2003 version of Willard, received reasonable reviews but was largely ignored upon release. To make matters worse, religious groups have already protested about the Christmas theme and the film's release date -- Christmas Day. Both camps view it as a desecration, but is there really anything here to get excited about?
Like the 1974 original, Black Christmas is set in a sorority house at the end of fall semester. The only people left are the housemother (Andrea Martin, who appeared in Clark's film too) and a handful of girls, either about to leave or stuck in town over the holidays. Their house has a tradition: every year they leave a present for Billy Lenz, a serial killer who lived there before the college turned it into a sorority. Having slaughtered his mother and stepfather, Billy is now incarcerated in the Clark (ahem) Sanatorium, but he's eager to get home for Christmas. Back at the house, the girls are receiving weird phone calls, and people are starting to go missing.
First and foremost, Black Christmas is a slasher movie, and Morgan knows what his audience is looking for. With gruesome murders every 12 minutes or so, the body count reaches an impressive total. The murders themselves are stylish and inventive, and pretty gory too: there's no shortage of eyeball-gouging, and the list of ways to stab people in the head is now significantly longer than it was. Pacing is essential here -- too many slasher movies get bogged down in dull, talky midsections -- and Morgan nails it perfectly, maintaining the same fierce tempo from beginning to end, assisted by quick-fire editing and skewed camera angles. Wisely, he also avoids telegraphing the victims: each of the characters is given equal focus, and for the most part there are no "obvious victim" stereotypes.
Fans looking for something in the same vein as the original are likely to be disappointed here. The subtlety and ambiguity of Bob Clark's film have been replaced by an over-the-top, explicit approach, with the mystery elements almost entirely removed; the characters are thinner and less well developed; and the conclusion is altogether less memorable. It's debatable whether Morgan could have achieved the same thing here, and I'm not sure that he should have tried. It might not break new ground, but within the confines of its genre, Black Christmas has more than enough gruesome, gory fun to satisfy.
Review published 12.18.2006.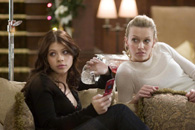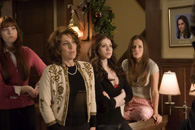 ---

---