Black Narcissus B+
Year Released: 1947
MPAA Rating: Not Rated
Directors: Michael Powell, Emeric Pressburger
Writers: Michael Powell, Emeric Pressburger (based on the novel by Rumer Godden)
Cast: Deborah Kerr, David Ferrar, Sabu, Kathleen Byron, Flora Robson, Esmond Knight, Jean Simmons, Jenny Laird, Judith Furse, May Hallatt, Eddie Whaley Jr.
A few weeks ago, I had the pleasure of watching Michael Powell's once-despised, now-classic chiller Peeping Tom (1960) for the first time. It was the first of Powell's films I'd seen. Among the pleasures of Peeping Tom were its lush, beautiful Technicolor images. And, well, 1947's Black Narcissus (for which Powell shares writing, producing, and directing credit with longtime collaborator Emeric Pressburger) is even more visually stunning than Peeping Tom. It's one of the most beautiful films I've ever seen.
The plot is classic melodrama. It concerns five Protestant missionary nuns who struggle to transform a former Hindu palace into a hospital and a school for children. The palace is perched atop the mountains in the Himalayas, a place so breathtakingly beautiful and sensual that it's just a matter of time before earthly desires begin to creep up on the Sisters. And it doesn't help that the British overseer of the district, Mr. Dean (David Farrar, likable in a rugged, outdoorsy kinda way), walks around flaunting his manly charms and wearing hastily buttoned shirts and shorts.
Sister Clodagh (Deborah Kerr), the leader of the group, doesn't like Mr. Dean much (perhaps because his shorts are so distracting), so this presents some conflict. Clodagh was recently appointed to Sister Superior status and she seems to relish the leadership, even if she's a bit unsure at first. Deborah Kerr plays her with a quiet, intense dignity, masking a subtle sense of melancholy underneath her rigid facade. Meanwhile, Sister Ruth (Kathleen Byron, in a terrific performance) is becoming quite captivated by Mr. Dean; she's as giddy as a schoolgirl any time he says a word to her. Anyway, Sister Clodagh tries her best to keep her order focused and the Sisters on track, but the sensuality of the place begins to take its toll. It's the classic battle between the spirit and the flesh, played out in wonderfully melodramatic fashion.
Black Narcissus may seem like an overwrought soap opera at times, but the dramatic tension builds to a chilling climactic sequence that is nothing short of a masterpiece. If you think the film is a bit slow and uninteresting at first (like I did), stick with it: the amazing final 20 minutes are worth it.
The film is available on DVD from the Criterion Collection. It's presented in its original full screen 1.33:1 aspect ratio and the images on the disc are crisp and vibrant. The audio is monaural, and there's a commentary track with the late Michael Powell and admirer Martin Scorsese. Scorsese's comments are lively and intriguing, but whenever Powell talks, it's likely to lure you to sleep, if you can even understand what he's saying half the time. The original theatrical trailer, which is a hoot, is on the disc, along with a collection of behind-the-scenes production stills (including shots that didn't make the final cut).
But the best extra on the disc is Painting with Light, a 27-minute documentary on Black Narcissus cinematographer Jack Cardiff. It shows how the film's visuals were inspired by paintings and how innovative lighting techniques and Technicolor enhanced on-screen emotion. Kathleen Byron, who played Sister Ruth, even says that half of her performance was thanks to the lighting. It's tough to believe that this film, set in Himalayas, was shot completely on studio sets, but as the documentary shows, it's true. Matte paintings of mountains and skies were used extensively and, for the most part, they're convincing.
Martin Scorsese was once quoted as saying about his first viewing of Black Narcissus that he wasn't sure he'd seen the best film ever made, but he'd seen something revolutionary. I'm not as in love with the film as Scorsese, but I agree with that. I haven't seen a film quite like it before. And if any of you fans of Hitchcock's Vertigo haven't seen it yet, check it out to see what the master of suspense borrowed from Powell and Pressburger. You might be surprised.
Review published 07.06.2001.
Follow Michael Scrutchin on Twitter or Letterboxd.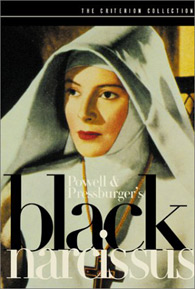 ---

---