Bob le Flambeur A-
Year Released: 1956
MPAA Rating: PG
Director: Jean-Pierre Melville
Writers: Jean-Pierre Melville, Auguste Le Breton
Cast: Roger Duchesne, Isabelle Corey, Daniel Cauchy, Guy Decomble, Andre Garet, Claude Cerval, Colette Fleury.
Before the likes of Jean-Luc Godard, Francois Truffaut, and others of the Cashiers du Cinema crowd officially ushered in the French New Wave, Jean-Pierre Melville helped lay the groundwork for the movement with his free-spirited low-budget, independently produced films. Chief among them his über-cool, lighthearted ode to American gangster films, Bob le Flambeur. In the film, aging gambler and former gangster Bob Montagne (Roger Duchesne) comes out of retirement to pull one last job, a heist on the Deauville casino. Melville, however, is less concerned with showing a suspenseful heist (an intention he dropped after being blown away by John Huston's The Asphalt Jungle) than he is in exploring the world of after-hours Paris: the casinos, bars, neon lights, smoke-filled rooms, wet streets gleaming in the moonlight, and the hoods, cops, pimps, and dames who inhabit this world. Serving as a massive inspiration for P.T. Anderson's Hard Eight, Bob shows the ropes to young wannabe hustler Paulo (Daniel Cauchy) and takes under his wing a 16-year-old would-be prostitute (Isabelle Corey) with whom Paulo falls in love.
The seductive jazz score and Henri Decae's beautiful black and white cinematography help ease you into the atmosphere. The noir ambience and a stellar performance from effortlessly charismatic Roger Duchesne -- who simply oozes cool when donning a Bogart trench coat -- make it tough not to get wrapped up in Bob le Flambeur's spell. Underneath the stylish facade, it's a dryly funny and compelling examination of friendship, loyalty, and morality that ends on a note of delightful irony.
The Criterion Collection DVD features a crisp, clean transfer with restored image and sound, improved English subtitles, the trailer, a video interview with actor Daniel Cauchy, and a radio interview with Jean-Pierre Melville. Melville died in 1973, but his work, which also includes Le Samourai (1967), has made an indelible mark on cinema, influencing a number of filmmakers -- Godard, John Woo, Quentin Tarantino, and Martin Scorsese to name a few. His legacy brings to mind something Melville says in Godard's Breathless. As an author being interviewed, he is asked about his life's ambition. He says, "To become immortal, and then to die."
Review published 01.26.2003.
Follow Michael Scrutchin on Twitter or Letterboxd.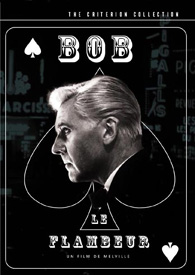 ---

---