The Caveman's Valentine B+
Year Released: 2001
MPAA Rating: R
Director: Kasi Lemmons
Writer: George Dawes Green (based on his novel)
Cast: Samuel L. Jackson, Colm Feore, Ann Magnuson, Aunjanue Ellis, Tamara Tunie, Anthony Michael Hall, Damir Andrei, Rodney Eastman.
With a suitably cryptic title, The Caveman's Valentine could be just about anything. It presents no clearly defined face, no neat fit into a convenient generic formula. It appears as much of an enigma as the craggy face of Samuel L. Jackson on the poster, staring at us fiercely beneath a mountain of dreadlocks. The teasing title rest atop a film that embodies many things: an engaging murder mystery, a quiet social commentary, a lush debate on the nature of talent. The murder mystery takes center stage, but director Kasi Lemmons has more up her sleeve than a mere whodunit... and in Jackson's character has found a most unique detective to serve as our guide.
Romulus Ledbetter lives in a cave in the park. Once, he was a brilliant composer-pianist, but his creative powers have been undone by an overwhelming mental illness. Cut off from his family, he spends his days in paranoid conflict with an unseen enemy who assaults him with invisible ray beams from atop the Chrysler building. His only true companions are a legion of "moth seraphs" who live in his head and the recurring phantom of his estranged wife (Tamara Tunie) who dispenses arch advice with withering sarcasm. Lemmons uses numerous effects to visualize Romulus's insanity -- from the toxic, glowing Chrysler building, to the faceless minions who pursue him -- while expertly intertwining his schizophrenic episodes with flashes of his still-potent creative genius.
One cold and blustery February 14, Romulus wakes up to find a dead man perched in a tree outside his cave. He knows the deceased -- a young, strung-out vagrant named Matthew -- and while the police are quick to dismiss the case as death-by-exposure, he suspects foul play. Matthew was afraid of heights, for one thing; for another, he apparently had a dark relationship with a controversial artist-photographer named David Leppenraub (a delightfully infernal Colm Feore) that may have lead to his demise. Romulus also believes that Matthew sent him a message for help, and his conscience drives him to resolutely search for the truth... if only he can keep the z-rays at bay long enough to do it.
The key to the film's success lies in Romulus's perceptions. Without it, The Caveman's Valentine would be nothing more than a run-of-the-mill murder mystery. The film's weakest elements come as part of the whodunit -- some convenient coincidences move the plot along at points, and the climax reeks of deus ex machina. But when your detective is a paranoid schizophrenic, the game takes on a wonderful new twist. Romulus is a richly realized character, one of the best Jackson has ever put on film. He has all the eccentricities of a classic Holmesian detective, only exacerbated. He must uncover a killer while simultaneously battling the howling chaos inside his own skull. At some level, he understands his condition, and struggles throughout the film to parse what is real and what is delusional. But he can never be sure; at times, we ourselves can't be sure. With the help of Jackson's brilliant performance, it makes the mystery far more interesting -- and challenging -- that it first appears.
Lemmons complements the story with a strong visual style, evocative of her brilliant rookie work in Eve's Bayou. She also shows a flair for digging beneath the surface of things, and uses the mystery to make some intriguing points about art, creativity, and social justice. Leppenraub may be as insane as Romulus, yet one genius ends up poking through garbage while the other is the toast of Manhattan. When does brilliance give way to madness? How does perception dictate which lunatic becomes revered? Does suffering necessarily translate into art? Lemmons posits the issues intelligently and subtly, weaving them through the story without overwhelming plot or character. Though she began her career as an actress (she played Jodie Foster's roommate in Silence of the Lambs), her sharp direction here confirms where her true talents lie.
Though not as brilliant as Eve's Bayou, The Caveman's Valentine represents an admirable sophomore effort, and a terrific showcase for Samuel L. Jackson. His presence lifts the entire endeavor, transcending the sometimes-questionable framework into a unique retake on a tried and true formula. Like its title, The Caveman's Valentine raises some intriguing questions. Thankfully, it's also smart enough to answer them.
Review published 03.05.2001.
For another opinion, read Jeremiah Kipp's review.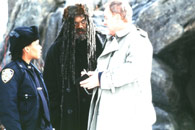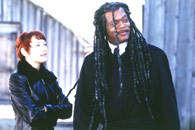 ---

---