The Commitment C+
Year Released: 2004 (UK: 2005)
MPAA Rating: Not Rated
Director: Montri Kong-im
Writers: Chaowalek Srangtook, Lunchana Sartno, Montri Kong-im
Cast: Prangthong Changthom, Pinsuda Tanphairoh, Viritipa Pakdeeprasong.
The Commitment is the inaugural release from Anchor Bay UK's Dark Asia line, which is set up to showcase -- surprise, surprise -- the brightest and best films of the Asian horror scene. Thai films are still a comparative rarity in the West (aside from anything involving the ubiquitous Pang brothers, creators of The Eye), so it's good to see distributors taking a chance with an unknown quantity. But does The Commitment manage to rise above the wave of increasingly derivative Asian horror films? Well, yes and no.
A group of friends from Bangkok decide to visit a local "spirit house," an abandoned house inhabited by a spirit who has the power to grant wishes, if promised the appropriate offering. With their graduation getting closer and closer, most of them pray for decent grades, but one of them, a skeptical girl called Moss, makes a mocking pledge that she will do anything in return for the satisfaction of her friend's desires. After that night, Moss and her two friends Pin and Muay forget all about the spirit house; they're too concerned with other things. Pin's parents aren't going to be home for her birthday, while Muay's father insists that she goes to medical school in Thailand instead of traveling to London to study with Pin and Moss. Moss's mother is also putting pressure on her daughter to stay at home. Needless to say, they have enough on their plates.
While their friends are careful to make sure they provide the promised offerings as their wishes are fulfilled, Muay, Pin, and Moss are not so diligent. Before long all three are subjected to a series of bloody manifestations, courtesy of an angry and vengeful spirit determined to collect what is owed. It isn't until the end of the film, however, that the true nature of the bargain Moss has made becomes clear.
The "vengeful spirit" motif is perhaps the most recognizable feature of the Asian horror film, so it's a shame that director Montri Kong-im sticks to the established formula. He's obviously familiar with both the Ringu and the Ju-On franchises, and weaves some sizeable elements from each into his story. On top of that he recycles one of the most famous movie moments in history, the shower scene from Psycho! It may be intended as a tribute to Hitchcock, but there's really no excuse for it in this day and age. To his credit, he knows when to crank up the tension and when to spring a "Boo!" on the audience, rarely keeping his monster on-screen for longer than a second. The Commitment is also a good deal bloodier than the majority of Asian ghost stories, including some wince-inducing moments of self-mutilation. Montri Kong-im's most significant achievement is to deliver a handful of scenes that will stick with the viewer, even if the film as a whole is less memorable. Given the extreme familiarity of the material, it seems likely that The Commitment is about as good as it could have been. An average film then, but perhaps a director to look out for in the future.
Review published 09.27.2005.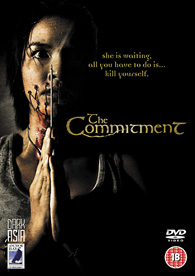 ---

---