Deterrence B
Year Released: 2000
MPAA Rating: R
Director: Rod Lurie
Writer: Rod Lurie
Cast: Kevin Pollak, Timothy Hutton, Sheryl Lee Ralph, Sean Astin.
Deterrence represents an older style of political thrillers, when studios didn't have huge budgets and Tom Clancy novels to fall back on. There's no laser-guided satellites here, no rugged hero careening through some exotic locale. Writer/director Rod Lurie limits the action to one set, and relies on sharp dialogue, taut performances, and a claustrophobic atmosphere rather than explosions and special effects to carry the day. The results, while spotty in places, have a fierce energy that keeps you engaged right up to the end.
Apparently, Sino-American relations are about to head due south, because by 2008 most of our military forces are in the Pacific Rim. Former vice-president Walt Emerson (Kevin Pollak) seems to have things well in hand, despite taking office mid-term after the lingering death of his predecessor. He's campaigning for re-election in Colorado when a blizzard forces him, a camera crew, and a small group of advisors to take shelter in a roadside diner. That's when the roof caves in -- Iraq invades Kuwait, overwhelming the small American-led forces there and setting up chemical and biological weapons on the border. With few troops in the area and the Iraqis on the move, the President broadcasts a chilling ultimatum -- withdraw immediately or he'll drop a nuclear bomb on Baghdad.
A former film critic, director Lurie is smart enough to keep his scope limited for this his feature debut. The action never leaves the diner, using news telecasts and Gulf War footage to convey the mounting crisis. As the clock ticks away, it falls to the actors to convey the urgency of the situation, a task they're more than up for. Pollak rebounds admirably from a string of embarrassing roles, portraying President Emerson with sharpness and intensity. He gets strong support from Timothy Hutton and Sheryl Lee Ralph, his quick-tongued advisors who can't quite believe what they're seeing. The energy between these three as they debate impending Armageddon carries the movie for much of its length. The hapless diner patrons, given little to do but watch, still create a few nice moments, as when a vacationing New York couple tries to call their son on a cell phone. Lurie keeps the camera tight and disciplined, playing to his performers rather than the other way around. The effect gives weight to every spoken word, and keeps the suspense going up until the last reel.
There are bumps, of course. Believability is sometimes sacrificed for the sake of excitement, and several plot twists depend too much on deus ex machina to work. (I don't want to give too much away, but I hope for Bill Clinton's sake that the real Secret Service is a bit more thorough.) But the scenario itself is rendered with eerie plausibility, and the slow countdown never loses credibility. Lurie keeps the climax suitably ambiguous, leaving the audience to decide the moral implications of what they've seen. It's rare to see a filmmaker trust the viewers to make up their own minds, but with this subject matter, it's almost essential.
Deterrence isn't going to make anyone forget Day of the Jackal or any of the other great political thrillers of the past, but it has real excitement that belies its low-budget indie roots. With a strong cast and smart script, Lurie conjures up an engaging scenario with little more than chicken wire and string. In this day of astounding visuals and digital effects, it's nice to know that someone can still do it the old-fashioned way.
Review published 03.17.2000.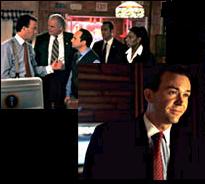 ---

---