Diary of a Mad Black Woman D
Year Released: 2005
MPAA Rating: PG-13
Director: Darren Grant
Writer: Tyler Perry
Cast: Kimberly Elise, Steve Harris, Tyler Perry, Shemar Moore, Tamara Taylor, Lisa Marcos, Tiffany Evans, Cicely Tyson.
Does anyone else find it strange that Diary of a Mad Black Woman was written by a cheerful black man? That would be Tyler Perry, the film's writer/producer/actor/comic relief who keeps multiple plates spinning -- he also plays three roles in the film, one of which requires that he dress in drag.
Fans of Perry's acclaimed gospel productions will recognize his character, the nagging granny Madea, from the writer's sold-out stage shows. His crazed creation calls to mind two Lawrences: Martin Lawrence in Big Momma's House and Vicki Lawrence in Mama's Family. Madea has more in common with Martin, particularly when she brandishes a handgun and shouts obscenities at total strangers. When told a dress is Vera Wang, Madea responds, "Who dat? She do nails?"
The sassy matriarch is a minor player with a major mouth. This story, instead, centers on Atlanta power couple Helen (Kimberly Elise) and Charles (Steve Harris), whose tenuous relationship careens toward a bitter finale. She's a bit clueless. Charles has two sons with his mistress, yet Helen doesn't catch on until he literally throws her out of their happy home. Broke and alone, she moves back to her former, less-privileged neighborhood, finds new love with sympathetic Orlando (Shemar Moore), and rediscovers life as a strong black woman.
Diary tailors decent themes of female empowerment and spiritual awakening to its unchallenging Lifetime-movie package. The somber marital strife tussles with slapstick comedy that's so broad you basically ram your head against it. Perry's preferences point toward the film's lowbrow antics, but his screenplay -- directed by first-timer Darren Grant -- strives for deeper emotional territories. His film is well-intentioned, but terribly stereotypical, falling back on the insulting ghetto speak and flabby caricatures that used to populate In Living Color skits.
By the third act, the characters all find religion, their penitential actions accompanied by uplifting gospel hymns. One catchy sing-along is actually entitled "Ask the Savior to Help You," in case you couldn't figure that out on your own. Along the way, oddball attempts at humor soar from left field. In one scene, Helen's relative, who's on lithium, smokes pot during the family barbecue, then imagines that rabbits are attacking her. No, I'm not joking.
Examples like that make it difficult to overlook the film's faults, which are limited to the areas of acting, script, and production. Another drawn-out subplot involves stoic Brian, played by Perry out of his stylish muumuu. His ex-wife has flushed her life away on drugs. Now Brian wants to protect their daughter from going down the same dark path, so he denies her the opportunity to sing in their church choir. Noble, but we've already seen the girl's family members tripping on acid at their summer get-together. If plot inconsistencies like that don't bother you, by all means, dive right into this sloppy Diary, which is never as clever as its eye-catching title.
Review published 02.23.2005.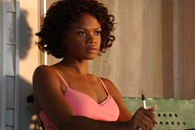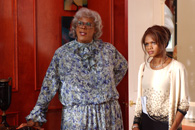 ---

---