Don Juan (or If Don Juan Were a Woman) B-
Year Released: 1973
MPAA Rating: R
Director: Roger Vadim
Writers: Jean Cau, Jean-Pierre Petrolacci, Roger Vadim
Cast: Brigitte Bardot, Jane Birkin, Mathieu Carrière, Lena Grinda, Robert Hossein, Maurice Ronet, Michèle Sand.
In her last feature film, Brigitte Bardot plays Jeanne, a woman who seduces and destroys nearly every man (and at least one woman) she comes across. The story is told mostly through flashbacks, as she confesses her sins to her cousin (a priest) while lounging about her submarine, an ultra-groovy bachelorette pad that might have been at home in either A Clockwork Orange or Austin Powers. As she tells of her sexual conquests and subsequent destructions with a curious lack of emotion, it becomes clear that she uses her power to dominate and destroy not because she enjoys it, but simply because she can. Her first victim is a family man and politician who falls in love with her only to have his life shattered when Jeanne's friend snaps a picture of him with an underage girl at an orgy. Yeah, that'll usually do the trick.
Directed by Roger Vadim, Don Juan (or If Don Juan Were a Woman) is oddly misogynistic exploitation with occasional sprinkles of nudity to keep the attention of the more naughty-minded in the audience. Like The Night Heaven Fell, it's often melodramatic and campy. Nevertheless, the film is surprisingly compelling, partly thanks to stylish cinematography and, more importantly, Bardot's ice-cold performance. Far from the cute girl in Plucking the Daisy, Bardot's features are rough, her eyes distant, and her charm -- once warm and adorably mischievous -- is now cold and joyless, but still as striking as ever. While much of the film may be ludicrous, there's a haunting poetry to the scene in which a sad-eyed folk singer agrees to give up everything for sex with her. After she leaves, he slits his wrists and bleeds to death as he strums his guitar.
The DVD from Home Vision Entertainment is presented in anamorphic widescreen with Dolby 2.0 stereo sound (in French will optional English subtitles). Also included are trailers for And God Created Woman, Plucking the Daisy, and The Night Heaven Fell, along with a Bardot filmography. While it's not Bardot's best work, Don Juan is essential viewing for her fans, as it reaches the wicked on-screen culmination of her sexpot persona and marks her bow out of the movie business. After this film, Brigitte Bardot retired to become an animal rights activist.
Review published 06.13.2002.
Follow Michael Scrutchin on Twitter or Letterboxd.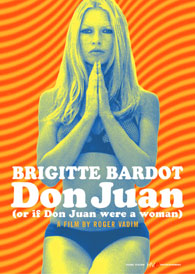 ---

---