Driven C+
Year Released: 2001
MPAA Rating: PG-13
Director: Renny Harlin
Writer: Sylvester Stallone
Cast: Sylvester Stallone, Til Schweiger, Kip Pardue, Burt Reynolds, Gina Gershon, Robert Sean Leonard, Stacy Edwards, Cristian De La Fuente, Estella Warren.
The last five pictures I've viewed are: Hsiao-hsien Hou's Flowers of Shanghai, Tsui Hark's Peking Opera Blues, Godard's My Life to Live, Majid Majidi's The Children of Heaven, and Renny Harlin's Driven. Based upon its dismissive notices, Driven seems the oddball in that grouping. Still, I enjoyed it more than at least two of those other titles. I know it sounds absurd, but if Hou, Tsui, Godard, and Majidi deserve praise for sustaining their personal aesthetics, then I believe Harlin isn't quite an intruder on that list. I would also argue that of those five names, Harlin alone brooks disapproval simply because he chooses to deploy his talents within "lower" genres.
When I read reviews declaring Driven a "standard story with stock characters and soapy dialogue," I find it difficult to object. The movie follows an aging Formula One racecar driver (Sylvester Stallone) as he mentors a young, promising upstart (Kip Pardue), and, as written by Stallone, it employs many familiar screenwriting shortcuts. Barely sketching in supporting characters like an icy, determined veteran (Til Schweiger), his long-suffering girlfriend (Estella Warren), and Stallone's bitter ex-wife (Gina Gershon), the story is loaded with cursory situations. It fails as convincing drama. This fault is worthy of mention, but I'm more interested in specifying why I liked the movie despite its considerable flaws. While enjoyment may not be a reliable measure of quality, it does signify that a closer look is warranted. To reject a routine genre picture like Driven without acknowledging the pleasures it has to offer -- however small -- is to deny one of the most valid reasons for cinema to exist.
Once dubbed the "Finnish Spielberg," Harlin first gained my attention in 1990, for Die Hard 2: Die Harder, which bested the original by embracing the hijack scenario's cartoonish qualities. Next was the awful Stallone vehicle Cliffhanger, but since then I have admired elements in each of Harlin's movies. Cutthroat Island and The Long Kiss Goodnight both featured tongue-in-cheek performances by Geena Davis, and The Deep Blue Sea sarcastically toyed with suspense conventions. None of those stories were particularly interesting, but Harlin's impeccable staging of action kept them diverting. While directors like Hou and Majidi desire to aggrandize the human possibilities of cinema, Harlin is loyal to another approach: he wishes to expand the kinetic possibilities of cinema. For me, that's a reasonable goal for a director to pursue.
Today's screens are saturated with physical energy, but most young filmmakers annex their styles from advertising or MTV. What I mean is that most action these days is disordered, amateurishly impressionistic. Slick "products" like Gone in 60 Seconds or Romeo Must Die are virtually incomprehensible in terms of spatial relationships, while overproduced fare like Mission: Impossible 2 and The Mummy Returns are monotonous overkill -- aiming to give us "more," they go too far.
Harlin, however, prefers coherency over incessant activity. He steps very wrong once in Driven -- the worst scene has two drivers scampering through downtown Chicago at preposterous speeds, with no discernible physical or legal consequence -- but generally his action is well-controlled and fastened to the narrative. Confirming that audience orientation is essential for action sequences to succeed, Harlin helps viewers get their bearings through prudent cutting and a generous use of long shots. The result is that I experienced Driven as an exciting virtual-reality joyride, but I also felt like an omnipotent spectator, able to clearly follow the athletic strategies. My knowledge of auto racing is sparse -- for all I know, Harlin has unforgivably corrupted the sport -- but Driven manufactures genuine thrills.
One anticipates impressive action from a Harlin release, but is there anything else in Driven worth commending? Tiny delights include Estella Warren's ability to simultaneously appear both crushed and courageous after Til Schweiger coolly dumps her in the opening scene; the way Schweiger admirably pulls off the regrettable line "I did it" while taking responsibility for that wrecked relationship; Stallone humming while behind the wheel; and Warren's poolside claim of being raised by frogs, chased by Kip Pardue's baffled but tickled grin.
The real surprise of Driven, though, is its lack of villains. Rather than issue ordinary conflicts, Stallone's script emphasizes characters who make mistakes, make amends, and try to behave decently. Closely observe how these people interact, and note how rare it is for movie characters to listen, really listen, to what others have to say. In Driven, patient understanding is presented as a recurring virtue, and while that may be old-fashioned, I found it refreshing. Obviously Harlin doesn't work anywhere near the same level as Hou, Godard, or even Majidi, but this piece of disposable fluff is more human than most critics have been willing to admit. It's what makes the accomplished action significant; there's always something at stake when these likable daredevils step on the gas.
Review published 05.11.2001.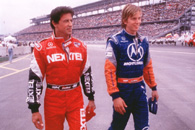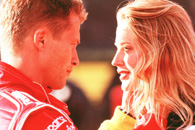 ---

---