The Evilmaker B
Year Released: 2000
MPAA Rating: Not Rated
Director: John Bowker
Writer: John Bowker
Cast: Stephanie Beaton, Felicia Pandolfi, Arlene Henry, Dori Schwartz, Alfredo.
With The Evilmaker, writer-director John Bowker has made a fan out of me. Not bad for a first film. While The Evilmaker is flawed and a little rough around the edges, it's also a surprisingly accomplished and creepy ghost story with enough twists to keep you guessing up until the final frame. And it's got Stephanie Beaton (from the Witchcraft series) -- and she gets to wield an ax. Please tell me, is there anything sexier than that?
In the film, Beaton plays Serena, a woman fleeing from a relationship with an abusive husband who has been cheating on her. She returns to her hometown, meets up with three high school friends, and agrees to go on a weekend trip to forget about all her problems for awhile. But since this is a horror movie, their van breaks down in the middle of nowhere. It's a dead-end street, of course, and "there's always a house at the end of dead-end streets." The girls take refuge in the abandoned house -- which, naturally, is complete with a fridge well stocked with booze. It's just too bad there's a supernatural presence lurking about that doesn't seem to like the girls too much.
The Evilmaker starts out near the film's end, with Serena shaken and bloody, on the brink of giving up by putting a pistol in her mouth and pulling the trigger. While it seems that every other indie filmmaker these days likes to play around with nonlinear storytelling simply because it's the cool thing to do, John Bowker toys with the narrative structure in a way that enhances the experience and makes the story stronger. Bowker uses flashbacks scattered throughout to reveal Serena's ill-fated relationship with her husband (ridiculously underplayed by Alfredo), often replaying sequences to reveal new twists the next time around. Unfortunately, the flashbacks to Serena's deteriorating marriage are lacking in dramatic impact -- partly due to a weak performance by Alfredo as her husband. While Beaton nails every emotional note, these scenes just don't have that dramatic electricity they need to work as well as they should.
But as an eerie haunted house movie, The Evilmaker succeeds more often than not. Before long, I honestly started getting a bit creeped out by this film. It never really scared me, but it achieved a level of genuine creepiness that many horror films strive for but never attain. The score is great, too, really enhancing the atmosphere. Though The Evilmaker gets a bit corny near the end, it quickly regains its footing and finishes splendidly. It's a horror film that emerges as a portrait of a woman who gains strength by forgiving someone who hurt her and deciding to move on with her life. It's a good horror film, no doubt, but it's also got real dramatic substance.
While all of the actresses do fairly well, Felicia Pandolfi as Rachel, the goth chick, did a really standout job; she has presence to boot and I'd like to see more from her. But, of course, this is Stephanie Beaton's show and she's wonderful here. Guys, you get the obligatory tit shots and a performance that runs quite an emotional gamut and proves beyond a doubt that Beaton can act. And, my God, she looks great wielding that ax.
Review published 01.09.2001.
Follow Michael Scrutchin on Twitter or Letterboxd.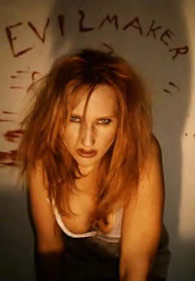 ---

---