Eye of the Beholder B+
Year Released: 1999 (USA: 2000)
MPAA Rating: R
Director: Stephan Elliot
Writer: Stephan Elliot (based on the novel by Marc Behm)
Cast: Ewan McGregor, Ashley Judd, Patrick Bergin, k.d. lang, Jason Priestley, Genevieve Bujold.
First, a word of warning: Eye of the Beholder is not the slick Hollywood-style thriller that many moviegoers are expecting it to be. Those approaching it with this sensibility will be shocked at what they get -- a somber, complex psychological character study that poses many questions but answers few. If you're one of those people who flocked to see Big Daddy on opening night (a new Adam Sandler movie! he's sooo funny!), steer clear of this one because you won't get it.
In Eye of the Beholder, we're introduced to "the Eye" (Ewan McGregor), a surveillance expert at the British Embassy in Washington. He spends his hermit-like existence being a professional voyeur of sorts, and he talks to his superiors via laptop computers and rarely has any real interaction with people. It's a depressing life, but it's his job. Even from the start, we see that the Eye is a disturbed individual -- he talks to his imaginary daughter frequently (who may or may not be real) -- but we don't know how disturbed he is just yet.
When the boss suspects that his own son is stealing money from his account, he sends the Eye to follow his son around and investigate. The Eye spies more than he bargained for, however, when he sees the boss' son get brutally murdered by a femme fatale (Ashley Judd). The Eye watches as she disposes of the body, and his daughter tells him, "Stay with her daddy. She's just a little girl."
From here, he's led from city-to-city, state-to-state, stalking her every step of the way, determined to never let her out of his sight. The body count keeps piling up everywhere she goes, but the Eye does nothing to stop it. The Eye just may be in love with her (but, really, it's much more complicated than that), and that's when this becomes a psychological thriller in the truest sense.
Eye of the Beholder takes you deep into the minds of these two very tortured souls, and it's not a pretty picture. It's a character study that leaves tons of questions unanswered, but gives you something to think about. But as we all know, the general moviegoing public doesn't like to think, which is reflected in the huge success of those damn Adam Sandler movies (okay, I'll stop picking on poor Adam). Not surprisingly, audiences and critics alike are already calling Eye of the Beholder the worst movie of the year. Audiences just don't seem to "get" the movie, but I was particularly engrossed and affected by the unusual on-screen relationship between Ewan McGregor and Ashley Judd. Though their characters only meet for a short time on-screen, the chemistry between them throughout is incredibly powerful. In a way, the movie is a tragic and strangely touching love story between two very disturbed individuals.
Eye of the Beholder bears a passing resemblance to Brian DePalma's Body Double, with its themes of voyeurism and obsession, but Eye director Stephan Elliot (who previously helmed 1994's Adventures of Priscilla, Queen of the Desert) strives for -- and reaches -- psychological depths that let this film stand on its own. I can't recall many films that actually made me care about, and root for, a serial killer. Watching the film I felt that I was not only seeing everything through McGregor's eyes, but that I was thinking his thoughts as well. McGregor is such an incredible actor that he says much more with a glance than most actors say with several lines of dialogue. Ashley Judd is equally wonderful, giving us one of the most heartbreakingly human serial killers in cinema. This film moved me in ways I couldn't anticipate, and some moments in the film took my breath away (particularly the scene in the diner, when -- well, sorry, I can't give it away).
The movie isn't without its flaws, though, and the story takes a few missteps here and there. But the flaws are almost forgivable, considering that Eye of the Beholder is such an intriguing alternative to the formulaic thrillers that we're used to seeing in theaters. It left me emotionally drained, mourning the harsh cruelty of fate.
Review published 02.04.2000.
Follow Michael Scrutchin on Twitter or Letterboxd.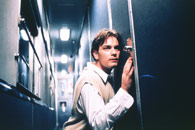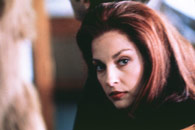 ---

---