Ghost Actress C
Year Released: 1996
MPAA Rating: Not Rated
Director: Hideo Nakata
Writers: Hideo Nakata, Hiroshi Takahashi
Cast: Yûrei Yanagi, Yasuyo Shiroshima, Kei Ishibashi, Ren Osugi, Takanori Kikuchi, Reita Serizawa.
Two years before the release of Ringu, Hideo Nakata directed Ghost Actress (Joyû-rei), his first full-length film. Although it wasn't a commercial success, Ghost Actress attracted the attention of writer Koji Suzuki, who asked Nakata to direct a theatrical version of best-selling novel Ringu. Since then, the film has sold well in Japan and has been picked up by U.S. company Dark Horizons for an English-language remake.
First-time director Murai (Yûrei Yanagi) is trying to complete his debut film, but the shoot keeps being interrupted or impeded by a series of strange events. Scenes from an unreleased (and presumed destroyed) drama from 1971 keep getting mixed up with his negatives; his actresses see a shadowy figure looking down upon them. Predictably it's not long before people start to die. Clearly some supernatural agency is at work, but Murai has only three days left to find out what is going on and finish the shoot.
As with Nakata's later films, Ghost Actress concentrates heavily on atmosphere. If you've seen Ringu and Dark Water (Honogurai mizo no soko kara, 2002), you'll be familiar with the main technique used to establish this mood: glimpses of a ghostly figure, out-of-focus and often partially hidden behind characters in the foreground. Unfortunately, Nakata allows the ghost's early appearances to last far too long, instead of using brief flashes that make the viewer wonder what exactly they've just seen. Nakata himself has stated that his main mistake was to reveal the ghost too early and too completely, and it's hard to disagree.
The film's second major flaw is the absence of a satisfactory climax. While both Ringu and Dark Water built up inexorably to a high-tension finale, Ghost Actress has a brief, almost cursory climax. There is no momentum, no build to a final, devastating scene. Given that the film is barely 75 minutes in length, Nakata could have extended it by another half-an-hour without stretching the patience of the audience. In keeping with Dark Water, however, Ghost Actress does boast an enigmatic epilogue that seems less than completely necessary.
Leaving the flaws aside, Ghost Actress is well-made film that shows definite signs of Nakata's latent ability. The use of the film-within-a-film motif works well, with the disturbing nature of the secondary story -- a woman murders one of her friends and then takes her place, bringing up her victim's young child -- reinforcing the main story's unsettling atmosphere. Certain scenes are shown during rehearsal and again in the finished form, with lines from the script assuming new significance in the light of events in the studio. The cast is competent and professional, including several well-known actors. Yûrei Yanaga appeared in Ringu and Ringu 2 (1999), as well as the original V-cinema (direct-to-video) Ju-on (2000). Veteran Ren Osugi is well-known figure on the Japanese exploitation scene, having worked with Takashi Miike, Takeshi Kitano, Kiyoshi Kurosawa, and Toshiharu Ikeda, to name just a few.
For the most part, Ghost Actress is exactly what you'd expect it to be -- a less well-developed but still promising precursor to Ringu. To criticize the director for not being as good in 1996 as he would be later is childish however; Ghost Actress is still an enjoyable experience for anyone who appreciates a ghost story with a couple of cheap shocks thrown in.
Review published 06.14.2004.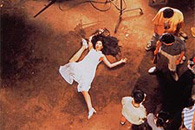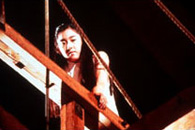 ---

---