Ginger Snaps A-
Year Released: 2000 (USA: 2001)
MPAA Rating: Not Rated
Director: John Fawcett
Writer: Karen Walton
Cast: Emily Perkins, Katharine Isabelle, Kris Lemche, Mimi Rogers, Jesse Moss, Danielle Hampton, John Bourgeois, Peter Keleghan.
Brigitte, 15 years old with dark hair and curious eyes, grabs a box of tampons from a grocery store shelf, informing her sister Ginger, who's nearly a year older, that this one comes with a free calendar. Both girls are late-bloomers, but puberty has recently struck Ginger. Brigitte turns to her and asks, "Are you sure it's just cramps?" Ginger, hunched over in pain with an irritated scowl on her face, quietly replies, "Just so you know, the words just and cramps -- they don't go together."
Naturally, it's not just cramps. Ginger is also becoming a werewolf.
Neil Jordan's The Company of Wolves associated lycanthropy with puberty, but Ginger Snaps uses it as an even more explicit metaphor for the female menstruation cycle. And surprise, surprise: Ginger Snaps is the best horror film in many a moon. It's also a smart, moody, wickedly humorous coming-of-age tale centering on two disaffected teenage girls. The Fitzgerald sisters, Brigitte (Emily Perkins) and Ginger (Katharine Isabelle), are outcasts at their high school, not so much because of their freaky fascination with death, but because they choose to be. Like Enid and Rebecca in 2001's other superb coming-of-age film Ghost World, they're so smart and quirky that most people just don't understand them. It's just as well, though. The Fitzgerald sisters have each other. And for girls who've made a pact to commit suicide together at age 16, they still have a morbid sense of humor and things aren't too bad.
Well, that is, until Ginger is attacked by a werewolf the same day she gets her first period. But instead of turning into a beast at every full moon, Ginger's change is gradual. She tells herself that these changes (hair in weird places, lots of bleeding, and an animalistic interest in boys) are only part of the onslaught of puberty. But once Ginger tears the neighbor's dog into pieces, it's obvious that puberty isn't the only thing afflicting her.
The key to the film's success lies in the strong relationship between the Fitzgerald sisters. Brigitte, the introverted wallflower who walks with an ever-present slouch, is played by the wonderful Emily Perkins. As her conventionally prettier sister Ginger begins to wear skimpier outfits and starts flirting with boys -- to say nothing of her escalating bloodlust -- Brigitte is trying to find a cure for her sister's affliction with the help of the local pot dealer (Kris Lemche). Emily Perkins is great here, effortlessly garnering our affection and sympathy as Brigitte realizes that her sister is drifting away and things will never be the same. Likewise, Katharine Isabelle, as Ginger, digs into her role with ferocious glee, but she keeps her performance grounded as she goes through her transformation, assuring it never gets campy or unbelievable.
Director John Fawcett (The Boy's Club), working from an excellent screenplay by Karen Walton, hits all the right notes. Ginger Snaps is alternately funny, scary, intense, and touching. Many of the more gruesome scenes have a queasy tension reminiscent of the films of David Cronenberg, which isn't surprising given that Fawcett said he was inspired by Cronenberg's The Fly and the way its central character gradually changed throughout the course of the movie. But rather than exploiting the horror aspect, Fawcett directs his affectionate gaze upon the slowly unraveling relationship between Brigitte and Ginger. I haven't seen the TV series Buffy the Vampire Slayer, but from what I've heard, Ginger Snaps seems like it's along the same lines in that it uses horror conventions to explore the trials and tribulations teenagers face growing up. But horror fans need not fear: John Fawcett doesn't hold back when it comes to gore or violence and he handles it all with grace and style.
This film does so much right that it's easy to overlook the film's descent into more routine horror territory in the final act. Yes, it stumbles a bit near the end, but the climactic scenes are still thrilling. Furthermore, the final image is profoundly moving and haunting. It's so refreshing to see a recent horror movie that really cares about its characters and isn't afraid to tell a story that has real emotional resonance -- along with a wicked sense of humor and a few gallons of blood. Yeah, it's a throat-ripping good horror movie, but it's ultimately a movie about growing up. As such, Ginger Snaps ranks among the best films of the year.
The Canadian DVD from TVA International is superb. Unlike the bare bones full-frame U.S. DVD from Artisan, the DVD features the film in widescreen anamorphic format with Dolby Digital 5.1 sound. There are two terrific audio commentaries -- one by director John Fawcett and the other by writer Karen Walton. There's a half hour of deleted scenes, one of which fills in the blanks regarding the unexplained disappearance of the girls' mother (the hysterical Mimi Rogers) near the end of the movie. There's an entertaining making-of featurette, videotaped cast auditions and rehearsals, a "Creation of the Beast" featurette, the theatrical trailer, TV spots, cast and crew bios, artwork and photo galleries, very cool interactive motion menus, and a funny easter egg if you can find it. TVA International should be applauded for this excellent DVD. Wonderful package and presentation for a film that truly deserves it. This special edition DVD is available at Amazon.ca.
* * *
Editor's Note: Ginger Snaps is one of many neglected genre gems spotlighted in the new William Shatner DVD Club (unfortunately, it's not the TVA International edition, but we'll forgive 'em for that). For an annual fee of $47.99 (or $3.99 per DVD), the Shatner DVD Club will send you a DVD every month -- an overlooked sci-fi, fantasy, or horror film that has Shatner's personal seal of approval. Other featured titles include Close Your Eyes, Immortal, and King of the Ants. The club even has a 30-day free trial, which will score you a free DVD whether or not you decide to stay on as a club subscriber. For fans of genre fare outside the mainstream, the William Shatner DVD Club could be a real bargain.
Review published 01.10.2002.
Follow Michael Scrutchin on Twitter or Letterboxd.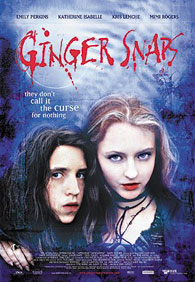 ---

---