H D
Year Released: 2002 (USA: 2005)
MPAA Rating: R
Director: Lee Jong-hyuk
Writers: Lee Jong-hyuk, Kim Hee-jae
Cast: Yeom Jeong-a, Jee Jin-hee, Cho Seung-woo.
Along with vengeful ghost stories, twisted serial-killer flicks are quickly becoming one of South Korea's chief exports. The best is undoubtedly Bong Joon-ho's excellent Memories of Murder, the story of the hunt to catch the country's first serial killer. Lurking further down the scale is H, the debut feature from Lee Jong-hyuk. While the film suggests a fair degree of talent on the director's part, there's just too much derivative material on display. Instead of taking risks, Lee -- who co-wrote the script -- has settled for recycling clichés from the most famous South Korean serial-killer flicks, as well as a handful of recent Japanese horror movies.
When the bodies of two pregnant women are found, the police suspect they are dealing with a copycat killer. The first killer, Shin-hyun (Cho Seung-woo), surrendered to the police 12 months ago, after claiming six victims. Even though he's incarcerated and awaiting execution, the female cop who handled the case (Yeom Jeong-a) is convinced he holds the key to the new killings. As each new body is discovered, the police are forced to look deeper and deeper into Shin-hyun's background to try and find the connection between the two killers.
Despite the budgetary restrictions (the most expensive Korean film ever made cost roughly $10 million), South Korean production crews are adept at making their films look great, and H is no exception. The framing and shot composition are perfect, thanks to Australian cinematographer Peter Gray and production designer Lee Jong-pil. Add this to Lee Jong-hyuk's solid directorial style and a decent cast (Yeom Jeong-a also starred in A Tale of Two Sisters), and you could be forgiven for remaining fairly optimistic about the outcome. Unfortunately, that doesn't take into account the film's biggest flaw: the script. Co-written by the director, the script helps to sink what could have been a reasonably effective thriller.
For a start, it's desperately muddled, particularly when it comes to forensic details. Several crucial deductions look pretty flimsy when examined under the spotlight, while others seem to make no sense at all. This might have been easy to get away with in years gone by, but shows like CSI and Law & Order have significantly raised the standard of armchair detection. Pinpoint accuracy may not be necessary, but it does have to sound convincing, which isn't always the case here. Moving on, the dialogue is also pretty painful at times. While this is only an occasional problem for most of the cast, it's a major issue when it comes to Shin-hyun. Much of what he has to say makes little or no sense. Given that his motives and methods are supposed to remain hidden throughout much of the movie, a certain inscrutability is required, but here it is taken too far. Without an effective villain as a centerpiece, the good guys -- never the most interesting characters in these films -- are left to try to prop up the film on their own. Needless to say, they don't succeed.
Beyond the script difficulties, H is simply too derivative to be satisfying. The opening scenes -- the discovery of the first victims in urban areas amid torrential rains -- are strongly reminiscent of Chan Yoon-hyun's 1999 smash Tell Me Something, the film that kick-started the recent wave of South Korean psycho-thrillers (coincidentally, Tell Me Something also starred Yeom Jeong-a). H also shares that film's occasional use of over-the-top gore; during one of its most memorable moments, we get to see the foot of an unborn fetus -- still moving -- poking out through a gash in the dead mother's belly. After that Lee seems to have second thoughts, and keeps the gore to a relatively low level. Unfortunately, he does also throw in a handful of blatant references to Kiyoshi Kurosawa's Cure, probably filtered through Masayuki Ochiai's pedestrian Saimin. In a better setting such references might seem like tributes, but here they simply serve to underline the derivative nature of the film.
Review published 07.30.2005.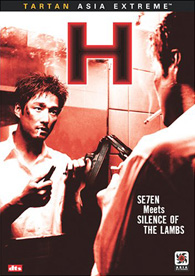 ---

---