Hard Candy A-
Year Released: 2006
MPAA Rating: R
Director: David Slade
Writer: Brian Nelson
Cast: Patrick Wilson, Ellen Page, Sandra Oh.
I thought a lot about what kids can do after seeing Hard Candy. No one believes them capable of much, and detractors of the film will use that belief to condemn it out of hand. It's too implausible, they'll say. Too contrived. No 8th grader in the world could orchestrate the hypnotic game of cat and mouse that 14-year-old Hayley Stark (Ellen Page) does in this film. To which I say, sure. No 8th grader could possibly do that. Nor could one ever win an Oscar. Or fly a plane around the world. Or slowly and methodically -- with malice aforethought -- take a bunch of guns to school and kill everyone they see. The capabilities of that age are of paramount importance to Hard Candy, for unless one accepts them, the movie is nothing more than cheap exploitation. But with that knowledge -- with the certainty that an adorable little girl could walk calmly into the lion's den and commit punitive acts to harrow the soul -- you have the most challenging, gripping, and daring movie of the year.
It's a heavy burden for Page, whose teeny 85-pound frame has to carry the weight from opening frame to closing credits. We first see Hayley, lips smeared with chocolate cake, as she sits waiting in a coffee shop for a man she met on the Internet. She's every bit the precocious tweener: smart, naïve, and a little unsure of herself, but ready to prove that she doesn't need a training bra anymore and can take a place in the world as a full-grown woman. In other words, irresistible bait for the likes of Jeff Kohlver (Patrick Wilson), an online predator whose composed facade defies every notion of what a pedophile is supposed to be. He's neither creepy, nor overbearing, nor pathetic, nor weird. Though his features are a tad vulpine, he hides them behind a pair of sensitive New Agey glasses, and speaks to Hayley with delicacy and respect. He's not the kind of guy who takes little girls home, he assures her. Not unless they want him to. And if they pour themselves a screwdriver when they get there, or ask if they can have their picture taken in a provocative pose, well, it's their idea, isn't it? After all, he's as much a newcomer to all this as Hayley is, and he would never ever do anything to harm such a sweet, special young woman who trusts him enough to enter his parlor alone.
The polished totality of Jeff's seductiveness gives him a strange air of sympathy, contrasting with the grim truth that 1) he's a man of 32 moving in on a girl just out of braces and 2) like so many of us, he refuses to take even the slightest responsibility for his behavior. Wilson and director David Slade parlay that into a complex, nuanced performance, creating an antagonist whose unexpected humanity brings depth to the monstrous urges he hides beneath the surface. He's not the only one with something to hide, however. For not only is Hayley onto him, but she has been for some time, and her babe-in-the-woods routine (punctuated by her red-hooded sweatshirt, ho-ho) masks a will as calculating and relentless as the bear trap menacing her on the movie's poster. Page struggles initially to convey that harsh core (she's much better playing sweet and innocent) but her intelligence shines in every moment, and as the film goes on, she eventually finds a brilliant tone for Hayley's increasingly fearsome intensity. It's a unique twist on horror-film dynamics -- the heroine becomes scary and remorseless, the villain terrified and desperate -- but by the end, the actress has not only won us over, but left us in a drained, exhausted puddle at her feet.
Which isn't to say her character has an easy time of it. I dare not reveal the particulars of what happens once Hayley arrives at Jeff's house, but suffice it to say that as bright as she is, she hasn't thought of everything... and Jeff has resources of his own. The need to reinforce her vulnerability leads to some of the film's few stumbling points, when unnecessary intrusion dilutes their sharp confrontation. But Slade's direction still brims with focus and poise, rendering his two-person cast in devastating close-ups that reveal every inch of their increasingly savage battle for supremacy.
As a thriller, Hard Candy is both clever and exciting, handling each new twist with unconscious ease. But it never remains content with just the visceral, augmenting its chills with unbearable psychological pressure and a subtext that refuses to play into stereotypes. The sexual politics are as potent as anything since Fatal Attraction, while the overarching pedophilia raises troubling and complex questions that defy easy answers. Jeff is sick, to be sure -- indeed, in the final equation, he's really quite evil -- but his sickness is only a shade or two off from what society considers the norm. He works as a photographer by day, snapping pictures of half-naked supermodels barely older than Hayley for eager consumption by a public intoxicated with soft young flesh. It's just a few slippery steps between the glamorous fortune of his public lifestyle, and... well, and what happens here. Easy, Hard Candy is not. But bold, original, and pushing the right buttons with astounding skill? Oh yes, it does all that and more. In a year shaping up to be one of the worst on record at the movies, experiences like this one become all the more precious. They tell us that the medium hasn't surrendered, that people can still make films with passion and devotion, and that characters like these two can still grab us by the throat and refuse to let us go.
Review published 04.16.2006.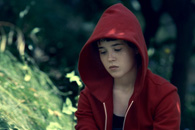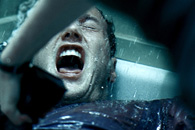 ---

---