High Fidelity A
Year Released: 2000
MPAA Rating: R
Director: Stephen Frears
Writers: D.V. Devincentis, Steve Pink, John Cusack, Scott Rosenberg (based on the novel by Nick Hornby)
Cast: John Cusack, Iben Hjejle, Jack Black, Todd Louiso, Lisa Bonet, Catherine Zeta-Jones, Joan Cusack, Tim Robbins.
John Cusack represents a rare phenomenon: an actor who embodies an entire generation on-screen. What Jimmy Stewart was to the '40s and Peter Fonda was to the '60s, Cusack is to people my age: twentysomethings born in the '70s, raised in the '80s, and currently stare the grim specter of adult responsibility in the face. Through films like Say Anything..., Grosse Pointe Blank and now High Fidelity, he conveys a combination of detachment, wit, and genuine emotion that resonates in a way so-called "Gen-X" movies never have. High Fidelity, like so many of his best roles, extends that appeal to a wide audience while staying true to the age group he's come to represent.
Cusack's Rob Gordon has done a pretty good job of avoiding adulthood. An obsessive music fan, he runs a struggling vinyl records store with a pair of fellow fetishists -- the quiet, friendly Dick (Todd Louiso) and the hyper-obnoxious Barry (Jack Black). The trio trades meaningless Top 5 Lists and heckles the occasional customer while refusing to acknowledge that there might be more to life. Rob's central problem (besides his store) is that his relentless serial monogamy, moving from one girlfriend to the next while never really committing to any of them. Ironically, each time a woman breaks up with him, he's left emotionally devastated, wondering what he did wrong until the next flame heats up and the cycle repeats itself. When Laura (Iben Hjejle), his latest girlfriend, leaves him after an extended relationship, he launches a grim self-evaluation to try and realize what he's doing wrong.
Rob is a tricky character to pull off. On the one hand, he brings a lot of misery upon himself. He's self-absorbed, he's afraid of commitment, and he can exercise a willful ignorance when it suits him. On the other hand, his emotional pain is very real and he genuinely cares about the women he's with. The audience has to laugh at his shortcomings without losing sympathy, and Cusack (with help from screenwriters D.V. Devincentis, Steve Pink, and Scott Rosenberg) handles the challenge with a first-rate performance. He speaks to the audience through direct asides, giving us a brutally honest self-assessment that defuses some of his less likable traits. His subjectivity is full of sharp wit and humor, yet never downplays his dilemmas for the sake of cheap jokes. We like Rob despite his self-inflicted romantic missteps, which makes him all the more endearing.
The result is a smart and knowing romantic comedy with enough laughs to satisfy the stodgiest curmudgeon. Director Stephen Frears keeps the pacing light without undermining the characters, and skirts numerous romantic clichés without falling victim to any of them. Cusack gets support from a fine ensemble of actors, topped by a scene-stealing performance from Tim Robbins, as Laura's flaky new-age rebound boyfriend. (The sequence where Robbins arrives at the store to "straighten things out" is a scream.) Though High Fidelity is hysterically funny, it never descends into slapstick or parody; the story remains grounded enough to let the central ideas develop beautifully.
There's a unique flavor to all of this that speaks to anyone afraid of commitment. Everyone's been where Rob is at some point in their lives and can empathize with his befuddlement. Cusack's knack for connecting with Gen-Xers makes this particularly poignant (we're at the same stage his character is in life), but his appeal stretches much further. At the end of the day, High Fidelity is about responsibility, and about the cold hard fact that every Peter Pan has to eventually grow-up. We're lucky to have films as good as this to remind us of that.
Review published 04.07.2000.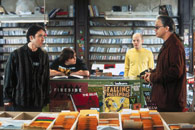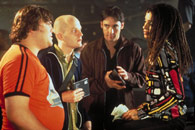 ---

---