Infection C-
Year Released: 2004 (USA: 2005)
MPAA Rating: R
Director: Masayuki Ochiai
Writers: Masayuki Ochiai, Ryoichi Kimizuka
Cast: Kôichi Satô, Masanobu Takashima, Mari Hoshino, Michiko Hada, Kaho Minami, Shirô Sano.
As the first film from the Taka Ichise-produced J-Horror Theater series to be released in the West, Infection has been eagerly awaited. Director Masayuki Ochiai is already well-known as the director of Parasite Eve (1997) and Hypnosis (1999), while the cast includes Kôichi Satô, the star of Rasen (1998). With other installments in the series coming from genre giants Hideo Nakata, Takashi Shimizu, and Kiyoshi Kurosawa, Infection has a lot to live up to.
The film opens in a hospital, understaffed and overburdened as usual. Tempers are short and everyone is feeling the pressure. A careless mistake leaves a patient dead. Rather than face an official inquiry, the two doctors and three nurses responsible decide to cover up the incident and destroy the evidence. In order to do so, they need to keep the cadaver hidden in controlled conditions for a couple of hours. Unfortunately, the next patient to arrive is carrying an extremely infectious and deadly disease that throws their plans into disarray, and puts them all in danger.
For the first half, Infection appears to be a psychological horror film, examining the already fragile psyches of the participants as they begin to crack under the pressure of their own actions, in ever more gruesome fashion. Few of them seem to have been particularly stable in the first place, and Ochiai manages to come up with some nicely twisted ways of documenting their decline. After that we move into more graphic territory as the physical effects of the disease move into focus, highlighted by buckets of green slime. Unsurprisingly, it's the first section that is the more engaging and effective, as we watch these somewhat pathetic specimens teeter on a knife-edge. Although the second half remains interesting, it's relatively traditional horror-film stuff. It's also where it starts to become clear that after presenting us with a fairly strong beginning, Ochiai really doesn't have any idea how to end the film.
So we're left with a series of fake endings and a thoroughly predictable resolution that leaves the viewer deeply unsatisfied. Vital questions are left unanswered and plot elements are casually cast aside. I wasn't expecting an astonishing M. Night Shyamalan-style twist, but there are a number of endings that would have been more appropriate. To be fair, Infection is an entertaining film that's quirky enough to hold your attention, but you can't help feeling that it could have been much better. Let's hope the next J-Horror Theater film (Premonition, directed by Norio Tsuruta and also released by Lions Gate) can push the standards up a notch.
It would have been nice if Lions Gate could have found some interviews or behind-the-scenes segments to bolster up their DVD, but what we're given is perfectly adequate. The transfer quality is excellent for a film shot using digital cameras, with no color problems. There are two audio mixes, Dolby Digital 5.1 and 2.0, which both sound great. Subtitles are removable and come in English and Spanish. The only extra is a trailer.
Review published 05.19.2005.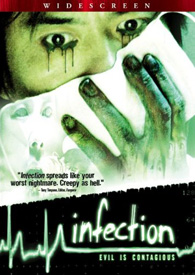 ---

---