Joe the King B
Year Released: 1999
MPAA Rating: R
Director: Frank Whaley
Writer: Frank Whaley
Cast: Noah Fleiss, Val Kilmer, Karen Young, Ethan Hawke, John Leguizamo, Austin Pendleton, Max Ligosh, James Costa, Peter Anthony Tambakis, Harlee Ott, Camryn Manheim, Travis J. Feretic.
Actor Frank Whaley (Swimming with Sharks) makes his directorial debut with this sometimes wrenching -- and semiautobiographical -- tale of a kid growing up in an abusive family in the 1970s.
Fourteen-year-old Joe (Noah Fleiss) has become something of a little thief. Whether it's swiping snacks from the corner store, breaking into cars and stealing purses, he's become quite slick about stealing things. It's easy to see how he wound up that way. His father (Val Kilmer) is an alcoholic, pathetic, sometimes abusive sack of shit who also works as a janitor at his son's school. His mom (Karen Young) is weak-willed and seemingly uncaring, but she's also sometimes the target of her husband's abuse. The only one Joe really shares a special bond with is his brother Mike (Max Ligosh), who is a year older than him -- and their relationship is one of the most touching aspects of the film.
The movie has a slice-of-life, episodic feel to it, and the story of a misguided kid growing up with an abusive/alcoholic dad and uncaring mother is nothing new, but the performances here make this a little more than just another movie about a troubled childhood. Noah Fleiss, as Joe, is truly impressive, managing to convey Joe's angst and pain that he keeps bottled up inside. Val Kilmer, though miscast, does surprisingly well as his drunken father, and by the end we see that he may have a glimmer of affection for his son after all. Karen Young is superb and even heartbreaking as Joe's mom. Max Ligosh, playing Joe's brother, is also great.
Joe the King is not as hard-hitting as it could be, but it's still honest and straightforward. It never strives for cheap sentimentality, either, as it's moments of power seem to draw from real-life itself. Although the ending is rather open-ended, leaving you wondering what will become of Joe, the answer is actually alive and well, and this movie is his testimony.
Review published 02.11.2000.
Follow Michael Scrutchin on Twitter or Letterboxd.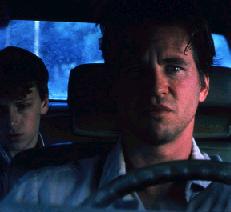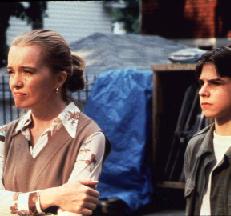 ---

---