Johnstown Flood D
Year Released: 1992 (DVD: 2003)
MPAA Rating: Not Rated
Director: Mark Bussler
Writer: Mark Bussler
Cast: Patrick Jordon, Charles King, Jennifer Lee Dake, Richard Dreyfuss.
The ominous opening chords suggest that Johnstown Flood is going to spin a modern-day Sodom-and-Gomorrah tale, but Mark Bussler's historical account never wades beyond its shallow biblical portents. True reverence -- for the weather, for research and analysis, for human casualty -- is entirely absent from this meager documentary, which often resembles an Irwin Allen disaster flick commissioned by the Learning Channel. It drowns in fire-and-brimstone spectacle.
Few residents of Johnstown, Pennsylvania knew or believed that a 40-foot wall of water was surging towards their industrial community, which helps explain why the flood ranks among the most devastating man-made disasters in American history. When a massive but shoddy dam built out of mud and cow dung burst on May 31, 1889, 20 million tons of water cascaded onto the 18-mile valley below, turning it into a sewer clogged with trees, buildings, trains, debris, and roughly 3,000 corpses. This forgotten tragedy certainly deserves study, but Bussler doesn't have the investigative instincts to do more than just recount the chronology of events that flattened Johnstown. The movie is a whirlpool of swelling facts (impeccably enunciated by narrator Richard Dreyfuss), still photographs, shots of anonymous raging rivers, drawings, and colorless reenactments.
Taking a cue from Moses -- who knew how to put on a show with water -- Bussler has faith that his dramatic tricks will lend his message power. Yet the hopelessly hokey reenactments, backlit and shot in close-up, sink the movie. Although the dialogue is based on actual survivor memoirs, most of the actors are asked to recite lines like "I call you and your horse a coward!" with all the enthusiasm of kids in a Sunday School pageant. Enamored with his black-and-white photography, Bussler establishes a tone of angry destruction, but he seems turned on by the hysteria -- the movie simply catalogs the carnage, taking glee in the gruesome. One of the final vignettes mentions how looting occurred in the flood's aftermath, but Bussler appears to introduce that detail only so that he can stage the lynching of a jewel thief, complete with three vigilantes aiming their guns directly into the camera's eye.
There's plenty of panic and melodrama in Johnstown Flood, but there's no inquisitive splashing, no passion, no outrage. Floating next to the families stranded on rooftops and bodies that are "charred, without limbs or heads," a better, more probing documentary is just out of reach. Surely the slapdash construction of the dam and its band-aid repairs are worthy of further analysis? Why are no fingers pointed at the local hunting club, which owned the dam and kept fish in the lake by screening the safety spillway -- a screen that trapped debris and blocked the dam's spillover lane? Why isn't the national outpouring of charity contrasted with the pillaging, as dual sides of American character? If he wanted to honor the victims of Johnstown, Bussler should have fully documented the circumstances surrounding their deaths, not merely reproduce them. He's like Jonathan Edwards, aroused by Noah and the Flood but bored by the time Jesus calms the storm.
* * *
Editor's Note: Johnstown Flood originally aired as an episode of PBS's American Experience in 1992.
Review published 07.19.2003.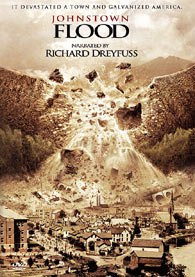 ---

---