Kissing Jessica Stein A-
Year Released: 2002
MPAA Rating: R
Director: Charles Herman-Wurmfeld
Writers: Jennifer Westfeldt, Heather Juergensen
Cast: Jennifer Westfeldt, Heather Juergensen, Scott Cohen, Tovah Feldshuh, Jackie Hoffman.
If nothing else, Kissing Jessica Stein proves that so-called "queer cinema" takes itself far too seriously. Most films of its type either concentrate on pretentious sermonizing, or flat-out reject the "Hollywood paradigm" and thus limit their message to an elitist few. Not so Jessica Stein. A bright, winning romantic comedy about the blurry lines of sexual identity, its boldness comes across with such subtly that you're scarcely aware of it until it hits you in the face.
It also benefits from a very winning performance by Jennifer Westfeldt in the title role. As a beautiful, but romantically unlucky New York professional, Jessica Stein could have been just another cliché. (She's neurotic and Jewish; gee, we've never seen that before.) But Westfeldt develops her into a vibrant, three-dimensional character that not only holds our sympathies, but makes a wonderful foil for the film's humor.
Stein also has more than her share of problems. She's high-strung, she's edgy, and she demands impossible standards for herself and those around her. Even if she didn't, the Manhattan bachelor scene has produced nothing but a steady string of losers for her to peruse. Unable to find a mate among the ranks of Y-chromosomes, she skittishly answers a "woman seeking woman" ad in the local personals column. On the other end is Helen (Heather Juergenson), an art gallery manager about as far removed from Jessica as Wall Street from Timbuktu. Helen has played with every variety of boy in every way imaginable, and turned to bisexuality as a means of further exploring herself.
Naturally, they're made for each other.
Though the film follows the pattern of most romantic comedies (mismatched duo finds true love after a few bumps along the way), the characters' sexual fluidity takes it in some very unexpected directions. It derives the bulk of its humor from the very straight Jessica's efforts to come to grips with her newfound love, and the very flexible Helen's reaction to her partner's neuroses. The latter is open and at peace with her bisexuality, while the former uses the pretext of companionship to shield herself from the physical side of same-sex coupling ("eww... I mean, eww!" she moans at one point). The film treats their dilemma with warmth and humor, and the jokes, though sharp, are never cruel. Kissing Jessica Stein eschews the big laughs in favor of a lot of continuous chuckles, and has the wit to keep them coming from beginning to end. It also has some surprisingly tender moments, and one genuinely brilliant scene between Westfeldt and Tovah Feldshuh, as her (surprise!) overly meddlesome mother.
Furthermore, it uses its homosexual overtones to springboard into a more general treatise on the nature of single life. Most people in couples quickly forget the enormous cultural pressure that comes to bear on those of us still in the trenches. Jessica Stein understands that pressure, and knows how to factor it into its story. By using a lesbian romance to portray universal feelings of longing and frustration, it places its characters in a widely accessible context. They aren't aimed at a "queer audience" (which would invariably isolate or distance them), but rather placed before us on their own merits. The results both celebrate queer sexuality and embrace it as part of larger emotions. Buoyed by the strength of the performances and some nice indy-style directing from Charles Herman-Wurmfeld, it makes its points without ever straying from the storyline.
If Kissing Jessica Stein has a flaw, it might be the unspoken implication that homosexuality is a lifestyle choice (as opposed to a genetic predisposition), which is bound to cause some flap. On the other hand, that sort of thinking misses the point somewhat. "Orgasms are orgasms," as one character says, and Kissing Jessica Stein would rather concentrate on our similarities than our differences. Everybody feels lonely sometimes. Everybody wants to have someone listen to their problems, to hold them and tell them that everything is okay. Kissing Jessica Stein presents those feelings as a natural part of human nature, not some alien mindset of a supposedly deviant minority. And it always does it with a sly smile on its face. It laughs and the world laughs with it: straight, gay, or otherwise.
Review published 03.18.2002.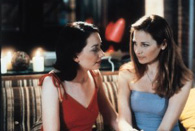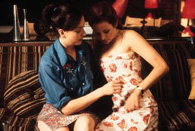 ---

---