The Legend of Bagger Vance C
Year Released: 2000
MPAA Rating: PG-13
Director: Robert Redford
Writer: Jeremy Leven (based on the novel by Steven Pressfield)
Cast: Will Smith, Matt Damon, Charlize Theron, Bruce McGill, Joel Gretsch, J. Michael Moncrief.
You can smell Robert Redford's The Natural all over The Legend of Bagger Vance. From the high-toned historicism to the reverent awe for its subject/sport, everything about it feels the same. There's even a golden boy hero in the form of Matt Damon, an easy stand-in for Redford's own over-the-hill baseball player. Like its predecessor, Bagger Vance makes an earnest effort to create a fable-like atmosphere of loss and redemption, where the game of golf can heal all wounds. Its problems arise almost in spite of itself, through the very spit and polish which carries it for most of its length. Though it's quite a handsome bauble, it never achieves anything of real merit.
Redford approaches the material with relentless competence, establishing his story like a military planner. He conjures up a beautiful Savannah, Georgia complete with Faulkner-esque tragedies and genteel Southern charm. Into this picture-perfect land comes a similarly spotless drama: Rannulph Junuh (Damon) a formerly magnificent golfer who lost his soul on the fields of the Great War and now spends his days playing cards and drinking himself into a stupor. With such a nobly tragic protagonist, it only stands to reason that a second chance would come along, and Redford provides one with stopwatch regularity. Junuh's former lady love Adele (Charlize Theron, doing some kind of mutant Vivian Leigh impersonation) needs something to revive her dead father's failing golf resort and invites America's two greatest pros, Bobby Jones and Walter Hagen (historical figures, played by Joel Gretsch and Bruce McGill, respectively) to play against each other. Naturally the townsfolk want a true son of Savannah in the match as well, meaning that Junuh needs to be exhumed from his self-imposed isolation. Unfortunately, his skills have vanished over the booze-soaked years and he looks ready to royally embarrass himself... until a mysterious caddy named Bagger Vance (Will Smith) comes wandering across the fairway. Could this enigmatic stranger somehow hold the wisdom Junuh needs -- in life as well as golf?
There is nothing actively wrong with The Legend of Bagger Vance, and in fact much of it remains pleasingly watchable. Redford and cinematographer Michael Ballhaus carefully structure every shot to resonate with beauty. The images fit smoothly into the film's stated philosophy of golf as a metaphor for life. The holes and fairways of Adele's golf course are gorgeous, leaving even non-golfers to marvel at the beauty of it all. The actors all deliver their lines impeccably (Smith remains effortlessly charming, as always), and the script uses just enough gentle humor to keep the drama from becoming too intense. Fans of the sport will appreciate the attention paid to Hagen and Jones, two legends of the game who receive more than their due here. Nothing about the production -- nothing -- feels wrong or creates a jarring note.
That, perhaps, is its inevitable undoing, the two-edged sword that ultimately fells it. For while everything about Bagger Vance looks stunning, its perfectionism comes at the price of genuine drama. There's nary a hair out of place, not a single blade of grass standing where it shouldn't. In the midst of this relentless perfection, Junuh's struggles seem curiously unimportant. Damon is good enough to hold our attention but can't seem to find the proper edge to his character. We never feel that his torment truly exists, or that his efforts to overcome it have any real weight. He fails when he is supposed to fail and succeeds where he is supposed to succeed. It all happens right on schedule: sharply, competently and devoid of any real emotion. The film's down-home humor and Zen-by-way-of-Garrison-Keillor philosophy feels equally artificial, leaving us to wonder whether we couldn't have received the same basic experience with a paperback self-help book.
Without any depth to its beauty, The Legend of Bagger Vance becomes nothing but a garnish -- all frosting and no cake. So concerned is it with presenting a pleasing picture that it never gives us a reason to want to look at it. In the end, nothing about the film lingers more than a few minutes, and while it's hard to actively fault it, it's equally hard to find a reason to care. For a movie with Robert Redford's pedigree, The Legend of Bagger Vance should know better.
Review published 11.12.2000.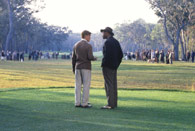 ---

---