Lost in Translation A-
Year Released: 2003
MPAA Rating: R
Director: Sofia Coppola
Writer: Sofia Coppola
Cast: Bill Murray, Scarlett Johansson, Giovanni Ribisi, Anna Faris.
Bill Murray and Sofia Coppola are an odd pair of Hollywood birds: the former a one-time comic headliner who eased away from stardom into some brilliant independent work; the latter an ex-laughingstock who vanquished her disastrous acting debut by helming the excellent Virgin Suicides. With Coppola's skills now firmly rooted behind the camera, she enlists Murray to bring her sophomore effort to life. The resulting Lost in Translation draws out the best in actor and director alike. By turns a social comedy, existential drama and unconsummated love story, it both solidifies her auteurial voice and gives him a perfect art-house reflection of his early career persona.
On the surface at least, Murray's has-been movie star Bob Harris matches the disaffected smart alecks of Ghostbusters and Groundhog Day. He arrives in Japan to shoot a whisky commercial, separating him from his emotionally distant wife and a burgeoning midlife crisis. Unfortunately, Tokyo's whirlwind assault proves little respite: the culture bewilders him, he can barely understand his hosts, and jet lag has produced a severe case of insomnia. Initially, he endures it the way Murray's other heroes do -- with long-suffering silences punctuated by snide verbal jabs. But then one night his sleeplessness drives him to the hotel bar, where he runs into another American: the newlywed Charlotte (Scarlett Johansson), whose photographer husband (Giovanni Ribisi) has all but abandoned her to his work. Despite the vast difference in their ages, the two slowly form a connection, which blossoms into something larger as the film goes on.
The scenario closely resembles that of American Beauty and dozens of other Lolita-esque melodramas: the elder man seeking a younger woman to find fulfillment in his empty life. But like Murray's performance, Lost in Translation blooms beneath the surface. The Virgin Suicides was marred by moments of tentativeness, where Coppola fell back on camera gimmicks to bolster her storytelling. No such hesitation can be found here. Only her voice endures, a quiet and eloquent passion that rapidly sheds her rookie nerves. She revels in subtleties, and understands as few others the value of a meaningful silence. The film charts Bob and Charlotte's not-quite romance without falling back on histrionics or broad dramatic sweeps. Instead, it relies on the actors to deliver information through expressions and gestures rather than words. Murray takes to the challenge like a duck to water; his wise-ass facade hides real depths in the character, which emerge to touch us when we least expect them. Johansson, too, plays a delicate game of impression vs. reality, disguising her loneliness beneath an impetuous bon vivant. The two match each other imperceptibly well, their chemistry brought out under Coppola's disciplined oversight.
So too does the funnier side of Lost in Translation develop into something special. As a culture-shock satire, it mines Bob's dilemma to extraordinary effect. Murray's comedic talents haven't lost a step, and the bafflement he displays at his surroundings is undiminished by his character's serious side. While Coppola sees the humor in Japanese society, she takes care not to appear condescending or bigoted. Indeed, she laughs as much at western confusion as eastern oddities, and finds her sharpest material in the slow seepage of American culture into Japanese mores. Though belly laughs are rare (Coppola eschews such broadness) some of the quiet gags here are as funny as anything you'll ever see.
But the film's greatest strength comes from its sad wisdom about relationships and the way its protagonists recognize how precarious their connection is. This is not a romantic fantasy where miserable people discover happiness in each other's arms. Neither is it a cautionary tale of yearning for what you can't have. Rather, it celebrates these two without ignoring the harsh reality that they can never truly be together. More importantly, it doesn't blind them to their dilemma the way so many other films treat similar couples. They know where they are, they know where it's leading, and they choose to accept what they have rather than lose it to delusion. Lost in Translation succeeds on the novelty of their belief -- a rarely seen dynamic that comes to beautiful life before us -- and on the two odd Hollywood birds who know how to do it justice.
Review published 09.08.2003.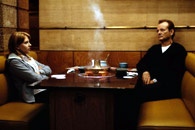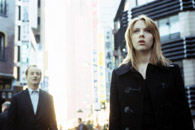 ---

---