Love Actually B-
Year Released: 2003
MPAA Rating: R
Director: Richard Curtis
Writer: Richard Curtis
Cast: Hugh Grant, Liam Neeson, Emma Thompson, Laura Linney, Keira Knightley, Martine McCutcheon, Bill Nighy, Rowan Atkinson, Colin Firth, Alan Rickman, Billy Bob Thornton.
By all rights, we shouldn't enjoy Love Actually. It has the air of an extended outtakes reel, mashing together scenes cut from other movies of its ilk. Director Richard Curtis has a good eye for them; after all, he penned such modern classics as Four Weddings and a Funeral, The Tall Guy, and Notting Hill. Here, he dispenses with one-couple romance to present a whole slew of Meet Cutes, running the gamut of every possible permutation. Many of them are one note, and more than a few appear deeply shopworn. At first glance, the assembled stew is very thin indeed.
But then Emma Thompson appears, glowing with class and reminding us why she's still the most exquisite creature on the planet. Or Bill Nighy oozes in, camping it up majestically as a fading rock dinosaur with one last shot at the charts. Or Rowan Atkinson sneaks up on us, delivering one of his quietly hysterical nitwits that reduce us to tears. Liam Neeson, Alan Rickman, Colin Firth... one after the other, they strut their stuff, armed with clever dialogue and the poise to make it stick. And all the problems and shortcomings and "yeah buts" just fall by the wayside. How can we bring ourselves to care? There's clever Brits to enjoy!
Perhaps realizing how slight his foundation is, Curtis takes great care to focus on Love Actually's assets rather than its shortcomings. He interweaves nine stories of comic romance, loosely bound in an Altman-esque mélange. The characters are interconnected, but not necessarily related, and each thread operates more or less independently: a heartbroken writer (Firth), whose growing attraction to his Portuguese housekeeper (Lucia Moniz) is confounded by their lack of a common language; a middle-aged couple (Thompson and Rickman) troubled by the flirtatious attentions of the Younger Woman (Heike Makatsch); an American office worker (Laura Linney) whose open crush on the company hunk (Rodrigo Santoro) is stymied by her constantly ringing cell phone; and so on down the line. None of them are quite alike, and their distinctiveness is key to Love Actually's success. It provides a nifty facade of depth, which holds our attention without allowing undue repetitiveness.
On the other hand, there's not much to the stories. The basic idea surrounding each is laid out fairly openly, and they generally proceed to their pre-established destination with little fuss or surprise. Any examination beyond the most perfunctory reveals the grizzled archetypes at their core... and in some cases the earlier variations which developed them more effectively (a storyline featuring Hugh Grant and Martine McCutcheon as the Prime Minister and his secretary feels like a Cliffs Notes version of The American President). Love Actually counters by keeping things in constant motion, leaving one story just as it starts to lose our interest and picking up another that's been idling awhile. The balance between them totters at times, but never falls, and just praise goes to editor Nick Moore for keeping all the plates spinning.
But the real selling points -- which absolve Love Actually of all sins -- are the sweetness of its tone and the droll charms of its cast. Curtis' quietly witty lines have lost none of their appeal, and with the thoroughbreds on-screen delivering them, it's impossible to suppress a smile. Even the standard-issue precious kid (Thomas Sangster) is enjoyable, playing Neeson's stepson and giving the sad-eyed Irishman a chance to show his gentler side. That we've seen it all before doesn't prevent us from enjoying it now, and Curtis' touch is deft enough to keep us away from that pesky skepticism. Warm and comforting as a cup of hot chocolate, Love Actually is impossible to dislike... no matter how cynically we might try.
Postscript: I said this with Elf and it bears repeating here. It is only the second weekend in November; Thanksgiving is still a fortnight off. Despite the chronic need to time one's opening well, we are TOO DAMN EARLY for a proper Christmas film. Take pity on us poor Scrooges, and schedule movies like Love Actually closer to the season for which they are intended.
Review published 11.09.2003.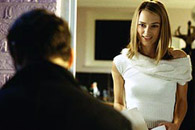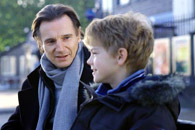 ---

---