Mari-Cookie and the Killer Tarantula D
Year Released: 1998 (USA: 2001)
MPAA Rating: Not Rated
Director: Jess Franco
Writer: Jess Franco
Cast: Lina Romay, Michelle Bauer, Linnea Quigley, Amber Newman, Analia Ivars, Robert King.
The back of the DVD touts Jess Franco's bizarro psychedelic comedy Mari-Cookie and the Killer Tarantula (aka Eight Legs to Love You) as a "wild departure from his classic tales of horror and eroticism," but then adds that the film retains "the trademark colors and textures that have made him a cinema legend." Gee, I always thought Franco was a legend because he's directed nearly 200 movies and not one of them is any damn good. But, no, it's the colors and textures. Now I see.
Lina Romay, Franco's fortysomething wife, plays "avant garde punk rock star" Tarantula, who looks like a freaky glam-rock transvestite with big spiky hair and wicked makeup. She performs at a nightclub by writhing around on a web completely naked, and Franco treats us to multiple angles, sloppy zoom-ins, and excruciatingly long slow-motion shots to make sure that we see every flabby inch of her body. Plus, everything is bathed in red light -- groovy, huh? Anyway, Tarantula likes to seduce young women, take them back to her place, drug them, and mount them on a web like trapped flies (where they may be forced to sing songs). And, yes, she often turns into a spider; the shots of Romay's face superimposed over the head of a dangling tarantula are priceless.
Sadly, the hilarious effects shots can't salvage this otherwise painfully dull and unfunny mess. Sheriff Marga (Michelle Bauer) shows up to investigate the recent disappearances wearing only a bikini bottom, a holster for her gun, and a leather jacket. Her list of suspects begins with a mother and daughter (Linnea Quigley and Amber Newman) and a woman named Mari Cookie (also played by Romay). But what's the use of a half-assed plot when the point is clearly to show Romay rolling around naked as much as possible (I mentioned she's over 40, right?) and to show all her female co-stars engaging in lesbian sex with her at one point or another? I wish I could say that the rampant sex and nudity make things bearable, but Franco has the dubious talent for making sex and nudity completely unerotic and boring. I wanna know how he managed to make Amber Newman (Pleasurecraft) not look hot; the guy must be brilliant.
Sub Rosa Studios has issued a goodie-packed special edition of Mari-Cookie and the Killer Tarantula on DVD. The film is presented in widescreen with an isolated music track, behind-the-scenes footage with optional nude commentary by Linnea Quigley, a photo gallery, a short film called Les Psycholettes, a few trailers, and more hidden features than you can shake a stick at. If I were a Franco fan, I'd be thrilled. Unfortunately, I'm not, but at least I learned something. After years of wondering why Jess Franco has such a devoted following, the back of the DVD has revealed that it's all in the colors and textures. Yeah, now I see.
Review published 09.20.2002.
Follow Michael Scrutchin on Twitter or Letterboxd.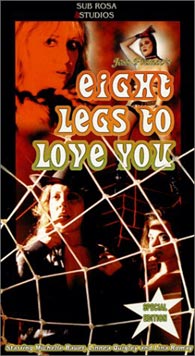 ---

---