The Matador B+
Year Released: 2005
MPAA Rating: R
Director: Richard Shepard
Writer: Richard Shepard
Cast: Pierce Brosnan, Greg Kinnear, Hope Davis, Philip Baker Hall.
Pierce Brosnan has played this game before. In John Boorman's The Tailor of Panama, he delivered a spot-on send-up of his own debonair image, creating what was easily the best performance of his career. The best performance, that is, until now. Richard Shepard's The Matador allows him a return visit to the same sleazy, low-rent comedic character -- exacerbating Tailor's earlier foibles with even funnier results. Without him, The Matador would likely still be amusing, its dark sense of humor tinged with just the right shade of human insight. But it wouldn't be the full-on lit firecracker of a gas that it turns out to be. As January settles in to its usual mix of unspeakable turds and gravitas-laden Oscar contenders, a sucker punch like this is just what the doctor ordered.
Brosnan plays Julian Noble, a seasoned hit man with too much jewelry and a disturbing familiarity with the brothels of the world. He can seduce a woman using nothing more than an arched eyebrow, but he has lost the capacity for any kind of real human connection. His career is in trouble too: the cost of killing people for a living has started to unhinge his mind, and as his handler (Philip Baker Hall) testily reminds him, there's no retirement plan for assassins. Then one evening in Mexico City, he strikes up a conversation with an American businessman in the hotel bar. The exchange is disastrous, with Noble interjecting crude comments in an attempt to be witty and the businessman -- a straight shooter named Danny Wright (Greg Kinnear) whose own career is teetering on the edge -- going from curious to horrified to fleeing the room in the space of a few moments. But somewhere in there, something intangible passes between them, and when Noble shows up the next day to make amends, Wright allows himself to be won over.
The odd friendship that they slowly develop holds the gist of the featherweight plot, as the paranoid Noble struggles to foster a genuine relationship for once in his life and Wright becomes simultaneously entranced and repelled by Noble's edgy bravado. The equation only strengthens when Noble reveals what he does for a living (during a terrific sequence at the local bullfight) and Wright's professional situation grows desperate enough to consider calling on his services. Writer-director Shepard guides both sides of the partnership admirably, countering the script's inherent shallowness by deftly enriching the characters at its core. Kinnear's white-bread normalcy is touched by its own shade of quiet despair, while Brosnan's lewd audacity betrays a man on the verge of total collapse. The Matador finds plenty to laugh at in both of them, even as it delicately forges some surprising common bonds between such supposed opposites.
It's hardly a new concept, to be sure, and can be found in everything from Analyze This to The Sopranos. But Shepard produces some new twists and turns to keep us on our toes, as well as a strangely moral undercurrent that fights its way through the grim humor. Subtle details bring a uniquely different tone to the proceedings, such as the mustache Wright grows to match his new friend's, or Noble's exchange of playground insults with a little boy in the film's opening moments. The always-great Hope Davis becomes a third-act trump card as Wright's wife, sharing his verboten curiosity when Noble drops by out of the blue ("Can I see your gun?" she asks the killer with barely disguised eagerness). And on top of it all, there's Brosnan -- happy as hell to laugh at himself and reaping an exquisite reward in the process. He's done it before, to be sure, but never so well or with so much obvious glee. With a prize like him in its corner, The Matador rises above the merely entertaining to become, in its own way, a sly and memorable piece of work.
Review published 01.05.2006.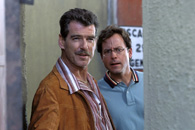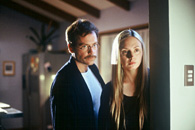 ---

---