Around the World in Eleven Days: Notes from the Milwaukee International Film Festival 2006
One of the inevitable quandaries of a film festival and its concurrent projections is that whatever screenings you attend, you always have the nagging feeling that you probably should be seeing something else. Maybe I picked the wrong movies this year, but I saw only two great films -- Stephen Frears' The Queen and Hans-Christian Schmid's Requiem -- at the fourth annual Milwaukee International Film Festival, which ran October 19-29. Now in its teething stage, MIFF continues to have impressive ambitions but modest means, and is most likely victimized by the fact that it runs in the autumn, a time cluttered with several major festivals, including Venice, Toronto, and San Sebastian in September, and London, Chicago, and now Rome in October, all competing to win the best films from around the globe. That might help explain why seemingly few works of consequence made their way to Milwaukee this year -- and The Queen, which was the opening-night selection, went into wide North American release even before the festival closed, so it hardly qualified as a coup.
Only two years ago MIFF opened not with an Oscar frontrunner, but with an amateurish, Milwaukee-set indie that no one's heard of since. It's tempting to view the difference as evidence that the festival has waffled on its original mission of bringing unheralded alternatives to Wisconsin audiences, but the choice of a crowd-pleasing, celebrity-driven kickoff probably says more about the economic realities faced by a minor festival than anything else. In fact, one way that MIFF has separated itself from the herd is by successfully branding itself a champion of regional filmmaking, offering cash prizes to productions based in the Midwest. This year's jury award for Midwest Feature Fiction Film went to The Orange Thief, a lightweight fable notable mainly for having been made in a month by a trio of local filmmakers (credited as Boogie, Vinnie & Artie) who learned how to assemble a movie on the fly. Their story, which follows a ruffian in Sicily as he tries to record the singing voice of a reluctant country lass, has many small charms but feels at once overstuffed and underpopulated. The outsized characters exist within a frustratingly closed system, which is perhaps the predictable result of each director shooting his scenes independently of the others.
Still, I'm glad to have seen their patchwork experiment, because when lead actress Micaela Helvetica Saxer is finally allowed to sing, her wondrous voice becomes all that matters. Hearing her silky, sensuous Sicilian folk songs ranks high among my lingering memories of this year's festival. Should I celebrate The Orange Thief merely for the musical interludes near its end? Frankly, I don't see why not. When I'm at the movies, I'm always hoping for pure moments, flares of discovery or exhilaration or pleasure, and those isolated fragments -- which may last only for seconds -- can enthrall me even when the film entire leaves me cold. One superb performance, image, insight, or joke can justify any picture. In fact, fragments might matter more than films, because often they are what we absorb from a movie and most want to talk about.
For example, while The Queen's Helen Mirren earned the Audience Award for Best Actress, a less conventional and no less thrilling performance could be found in Joaquín Oristrell's largely overlooked Spanish farce Inconscientes. Set in 1913 Barcelona, this whiplash mystery about a missing psychoanalyst treats viewers to kooky jokes about sex, Freud, and the modern world. At its center is the missing man's pregnant, liberated wife Alma, who drags her staid brother-in-law into an amateur investigation that grows increasingly screwball. Despite that big belly, Leonor Watling gives a luxuriantly physical performance -- she's funny and nimble and beautiful, and has mastered the art of the double take. Mirren is undeniably terrific as Elizabeth II, but I already know all about her dramatic gifts; how much more unexpected and exciting it is to discover Watling, a first-class comedienne whose ebullient, perfectly timed retorts gave the festival its greatest twinkle.
The best-sustained picture I saw was The Queen, but by now that's old news and no doubt you would rather hear about Hans-Christian Schmid's neglected Requiem. This coming-of-age masterpiece isn't the first movie to adapt the true case of a German student who died after a series of exorcisms in 1976 -- last year saw the release of The Exorcism of Emily Rose -- but it's the first horror film since Rosemary's Baby to work better as psychological realism than as genre exercise. Michaela is a 21-year-old epileptic who, despite her parents' misgivings, leaves her devoutly Catholic home for university. There she embraces the twin pleasures of academics and disco bars, but her newfound freedom, made manifest in her intellectual and sexual awakening, produces guilt and the suspicion that her seizures can no longer be explained in medical terms. What's gripping about Requiem is the way Schmid suggests the greatest horrors in Michaela's life aren't supernatural but social -- from where does her shame come, why does her confusion morph into mental illness, and why can't anybody help her? I wouldn't say Schmid posits organized religion as an affliction to overcome, but he does ask whether we can know where devotion gives way to delusion. By delicately navigating that distinction, the thin and pale Sandra Hüller suggests that Michaela's retreat into psychosis is actually a retreat from adulthood, from the uncertainties of the future -- rather than face a dreary life in her Bavarian village, she prefers to believe that she's an anointed martyr duking it out with demons. Hüller earned Best Actress at Berlin, but at Milwaukee her performance made my hair stand on end.
A similar transformation occurs in Abel Ferrera's Mary, easily one of the festival's most deeply felt films. Forest Whitaker plays a TV talk-show host whose program specializes in religious issues, but he remains unprepared for his own crisis of faith. If there's a fragment not to miss here, it's Whitaker's epiphany monologue, a piece of virtuoso acting that wipes away all of the film's darkness and anxiety with, at last, a moment of spiritual deliverance. It's alluring to read this story as Ferrera's direct reply to The Passion of the Christ, especially since Whitaker interviews a Gibson-like movie director (Matthew Modine) who has just completed shooting his own Jesus epic and unrepentantly defends his apocryphal vision of Mary Magdalene. Ferrera's film, by contrast, is stripped of sensationalism and, in its affecting portrait of a sinner pressed to the brink, doesn't merely preach to the converted.
I wish I could say the same for Marco Tullio Giordana's Once You Are Born You Can No Longer Hide. While sailing with his father, a privileged Italian boy tumbles overboard and gets scooped up by a ship carrying refugees across the Mediterranean. His experience awakens his sense of social justice and inspires his family to get involved with a pair of Romanian immigrants. Giordana is responsible for one of the best films ever to have played at MIFF, The Best of Youth, but his latest entry, after a terrific first half, drowns in didactic melodrama about Italy's immigration problems. Nevertheless, the scene where the boy nearly sinks to his death while his father naps achieves a peerless emotional suspense, while Alessio Boni, as the father, delivers yet another nuanced performance that confirms him as one of the most gifted European actors working today.
This year MIFF's country spotlight was on Iran, but the four-film cycle was surprisingly limp -- and the absence of Jafar Panahi's Offside, otherwise acclaimed on the festival circuit, was conspicuous. I never found an entry point into Voices of Bam, an impressionistic slideshow about the 2003 earthquake that killed more than 43,000 people. Voices whisper over random shots of rubble, but the effect is less sorrowful than spectral; for me, this terrible event remained an abstraction. Only slightly better was Kambozia Partovi's Café Transit, a squishy variation on Tampopo or Babette's Feast that feels like a rote example of contemporary Iranian cinema. At least Mani Haghighi's Men at Work uses its simple premise -- four buddies become absurdly obsessed with pushing an enormous, phallic rock over a cliff -- to make warm observations about men, work, and the Iranian middle class. Still, the best of the bunch was Reza Mir-Karimi's So Close, So Far, which concerns a brain surgeon traversing the desert to reconcile with his dying teenage son. Ultimately, the doctor's expedition forces him to confront the gulf between science and faith, and to reconsider his own religious worldview. The desert offers many metaphors for a man spiritually adrift; at one point, in a scene that would make Quentin Tarantino envious, his entire car is smothered by a sandstorm with little hope for escape.
The most astonishing sights to be found at Milwaukee, though, were in Workingman's Death, Michael Glawogger's symphonic, narrative-free documentary about six of the bleakest, most invisible jobs on the planet. Much of the film is stomach-churning -- feel the claustrophobia of being squeezed inside a Ukrainian coalmine, witness the rivers of gore at a Nigerian open-air slaughterhouse -- and there's something disconcerting about how Glawogger always records such hellish environments with one eye on their aesthetic virtues; at times, I felt complicit in the international exploitation of poor laborers. But I'd be lying if I said this epic ode to human toil wasn't visually eloquent and utterly compelling. It's unforgettable.
All I remember about the documentary Encounter Point, which chronicles a grassroots effort to bring Israelis and Palestinians together to share their common frustration with the conflict, is the advice one man gives the Israelis: "If you want security, end the occupation." My head immediately thought of a different war, and imagined how similar counsel might be received by the White House. Such inadvertent political transference is also what intrigued me about Adrian Caetano's Chronicle of an Escape. Set in Buenos Aires circa 1977, when the military government kidnapped enemies of the state, the movie tells of a pro soccer player wrongfully detained and subjected to relentless interrogations and beatings. Caetano hasn't made another A Man Escaped -- in the way it emphasizes arbitrary torture, it's more like another Midnight Express -- but in the age of Abu Ghraib and the rolling back of habeas corpus, it has topical resonance. While watching its litany of abuses done in the name of national security, it's impossible not to read this Argentinean movie as an allegory for current American policy.
Even deeper political outrage was stirred up by Cleveland's Ian Inaba, who won the jury award for Midwest Documentary by charting recent patterns of voter disenfranchisement in the United States. American Blackout, which screened only days prior to the midterm elections in November, follows Congresswoman Cynthia McKinney, of Georgia, as she crusades against election tampering, but the response from her fellow representatives is clear: Don't rock the boat, or we'll throw you overboard. Inaba's angry polemic doesn't offer new information about Florida in 2000 and Ohio in 2004, but it persuasively crystallizes how the powerful have willingly eroded the very foundation of democracy merely to silence dissent, and confronts the question most politicians are too scared to even think about: If we cannot trust our elections, how can we trust that we're truly free?
* * *
My favorite short films of the festival were Guy Maddin's My Dad Is 100 Years Old, in which Isabella Rossellini pays irreverent tribute to her father, the famed neorealist Roberto Rossellini; and Vincent D'Onofrio's Five Minutes, Mr. Welles, which imagines how the killer last line from The Third Man's ferris-wheel scene might have been conceived. Both pieces are in beautiful black-and-white, filled with whimsy, and wistful about old cinema. But in each case something more than simple nostalgia is at stake: Rossellini dreams up a surreal conversation with Roberto's belly -- that's a child's-eye view, after all -- in order to reconcile her conflicting feelings about her father and his slipping place in film history, while D'Onofrio indulges in baseless speculation only to meditate upon the art, personality, and mystery of Orson Welles.
I also enjoyed the following features: The Bridesmaid, Claude Chabrol's amoral thriller about love and murder; Crossing the Bridge, one of the finest music documentaries in recent memory; Inlaws & Outlaws, a documentary which re-frames the gay marriage debate in terms of love not sex; Live and Become, about an Ethiopian refugee pretending to be both Jewish and an orphan; A Love to Hide, about being gay in Nazi-occupied Paris; The Night of Truth, which imagines the end of an African civil war, only for revenge and bitterness to shatter the peace; and finally Our Brand Is Crisis, a documentary that shows how exporting democracy can be a perilous enterprise.
Less appealing were these features: 13 Tzameti, a tension-free thriller that's mostly about how guns are cool; Carmen in Khayelitsha, a version of Bizet's opera set in South Africa that has a fire-in-the-eyes lead actress but still quickly wears out its gimmick; A Comedy of Power, Claude Chabrol's dull satire of the business of politics and vice versa; Familia, a warmed-over drama about how mothers hand their pain down to their daughters; F*ck, an uproarious but ultimately facile, one-joke documentary about the strongest word in the English language; Interkosmos, an insufferably deadpan faux-documentary about East Germany's plans to colonize outer space; and finally Jan Svankmajer's "philosophical horror film" Lunacy, which is surreal, blasphemous, and revolting -- sounds good, I know, but all the unpleasantness carries limited rewards.
Still, there was no bigger disappointment at Milwaukee this year than the festival's scandalous decision to project more films from DVD than ever before. Roughly one-fourth of my screenings were not on celluloid, and the sizable differences between film and video projection were readily apparent -- watching films this way is akin to looking at paintings through glass smeared with Vaseline. In other words, if you've seen a movie projected from DVD, you haven't seen the movie. Evidently such projection solves certain fiscal and practical dilemmas for the festival, but doesn't anyone care that the safeguarding of film art is at stake?
Article published 01.15.2006.
Visit milwaukeefilmfest.org for more info.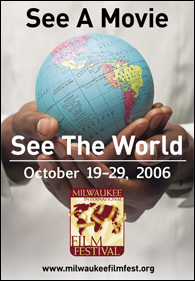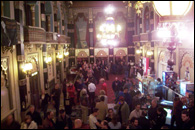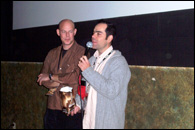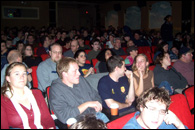 ---

---