You Can't Make This Stuff Up: Notes from the Milwaukee International Film Festival 2007
Chuck a stone at the Milwaukee International Film Festival, and you're likely to hit a documentary, probably one about the Bush Administration or slaughterhouses or a musician -- or in the case of Air Guitar Nation, bogus musicians. Nonfiction films have always been a staple at Milwaukee, which concluded its fifth edition in September and saw record crowds queue up for popular docs like Joe Strummer: The Future Is Unwritten. To these eyes, Julien Temple's conventional biography of the founder of The Clash relies on too many wooly testimonials by old pals, but the screening still provided one of my lasting memories of this year's festival. Sitting near me was a father and his young son, and it was charming to hear this man share his enthusiasm for Strummer, as if he were passing wisdom onto the next generation. For them, the movie was magic, and when was the last time you felt that connection at the multiplex? Over and over, this year's MIFF presented opportunities to experience the strange, supernatural power of cinema, but what struck me is how, more than ever before, the magic was felt strongest in the festival's nonfiction divisions.
For a lot of people, "movie magic" is synonymous with visual effects, but when computers exploded the limits of cinema, somehow the enchantment got blown up, too. In an age when CGI makes everything possible, nothing really counts -- except, perhaps, in documentaries, which still capture miracles that exist beyond the hard drive. Fourteen years have passed since Jurassic Park, the last time I felt exhilarated by an advance in special effects, but I sensed those old familiar twinges of awe while watching Nikolaus Geyrhalter's Our Daily Bread, easily the best film I saw at Milwaukee and perhaps the most informative documentary of the year.
Arranged as a poetic, rhythmic montage of high-tech farming processes, Geyrhalter's project pulls back the curtain covering up how mass-produced food makes its way to our tables. Geyrhalter stresses the cold, motorized nature of modern production through lengthy, usually static shots of tools and workers going about their business, all without the aid of narration or interviews. An early shot establishes his unblinking method: Workers power-wash the floor of a slaughterhouse, and there are no voices, no music -- just the chug of machine and water, and the bitter symmetry of the image. What's remarkable is how these pictures consistently shock, startle, or impress. During one gorgeous sequence, we share an elevator with two miners as they travel down and down, only to emerge as tiny creatures in a gigantic underground cavern with tall, blue snow drifts that turn out to be salt. In another shot, little yellow chicks are zipped through a blower onto a conveyer belt, and the efficiency on display seems like science-fiction inspired by Chaplin -- or Mengele. Through Geyrhalter's matter-of-fact lens, the industrial production of food is seen as a byproduct of society's ravenous consumerism, an appetite curbed only by the limitations of our machines.
New sequences in Our Daily Bread often begin by answering simple questions -- watch how cucumbers are harvested, learn how pigs' feet are sheared, see how cattle are killed and raised onto hooks -- only to pull back and reveal the vast, unreal scope of the operation, thereby forcing us to consider the labor in a larger, unexpected context: Who is going to eat all of that food? The answer, of course, is right there in the title. By implicating all of us in the large-scale, corporate production of food, Geyrhalter doesn't merely lament mistreated livestock or marvel at the human capacity to take streamlined swipes at the planet. Instead, he asks us to consider our own role in these facts, and to be honest about why we prefer these farming processes be hidden from public view. The deadpan journalism and ethical jolt of Our Daily Bread suggests Geyrhalter, rather than Richard Linklater, might have been the right filmmaker to adapt Schlosser's book Fast Food Nation.
Movie magic has always just been another name for high-class fakery, but what's transporting about Our Daily Bread is how it gazes at civilization with no embellishment or explanation. It stands in stark contrast to Aaron Woolf's King Corn, another documentary about how the priority of productivity comes at the expense of local economies and proper nutrition. A popular entry in the Midwest Filmmaker Competition, King Corn follows two pals who attempt to grow an acre of industrial corn on rented land in Iowa. The first half relies on a goofy, understated sense of humor (their learn-on-the-job plan inspires one local farmer to exclaim, "What the heck?"), but when the friends attempt to trace their harvest, they discover mean truths about the plight of the American farmer -- and the American diet. Still, I think of Walt Whitman, who observed that a lecture, no matter how shrewd, cannot match the perfection of silent, firsthand contemplation. So it is between King Corn, which feels like TV, and Our Daily Bread, which feels like a powerful, eerie admonition sent from the future.
Dave Sington's documentary about the Space Race, on the other hand, feels like a time capsule. In the Shadow of the Moon, which features spectacular space imagery and new interviews with aging NASA pioneers, recaps the adventure of being the first men to walk on the moon. Special effects could never engender the kind of vivid, resonant bliss that comes from witnessing these true-life rockets, celestial orbs, and heroic faces. Sington's act of preservation is positively inspiring, but sad, too: It plays, in 2007 at least, like a requiem for a nation that once accomplished awesome things for the right reasons, and has now lost its way.
Such disillusionment courses through Taxi to the Dark Side, Alex Gibney's angry denunciation of torture practices in the war on terror. There's something queasy about hijacking Abu Ghraib footage for agitprop purposes -- when we publicly gawk at a man's private moment of terror, does that widen his humiliation and therefore extend his victimization? -- yet it's even more nauseating to acknowledge that the terrorists' greatest coup wasn't killing thousands of Americans but goading us into willingly sacrificing our own values and moral clarity. As a portrait of how fear can curdle into hubris and hysteria, this well-researched history lesson could be shown on a double bill with The Crucible.
When House Majority Leader Richard Gephardt retired, everybody assumed Russ Carnahan -- who had a familiar family name -- would step right in, but the documentary Can Mr. Smith Get to Washington Anymore? follows the optimistic campaign of political unknown Jeff Smith during the Democratic primary season. The title's allusion to Jimmy Stewart evokes the theme: In an age when media coverage, big money, and sound bites end up appointing party nominees, does our republic have space for new, idealistic voices? Never totally sincere nor totally ironic, Alexandra Lipsitz's Air Guitar Nation also has a groovy egalitarian spirit, in the sense that it believes you too can be a rock star without ever learning how to play guitar, or even having a guitar. Both movies are cozy, funny tributes to unlikely subjects, but neither ever finds much else to do -- they are the nonfiction equivalents of warm milk.
Nevertheless, Can Mr. Smith Get to Washington Anymore? earned Frank Popper, a rookie director from St. Louis, the Midwest Filmmaker Competition Jury Award for documentary. The Audience Award for documentary went to Daniel Karslake, whose very moving For the Bible Tells Me So features Christian families coping with the fact that they have a gay child. Karslake's main focus is on the emotional cost of bigotry -- a price paid by the parents as well their children -- but he also manages to crystallize the argument for reasonable doubt regarding what Scripture says about committed same-sex relationships. Other notable nonfiction films included The Unforeseen, about Austin's opposition to suburban development in the '80s, and The Rape of Europa, which catalogs the art treasures lost during the Second World War. Whether represented by a local water hole or by centuries of celebrated artifacts, both films articulate the importance of shared history and quality of life -- values the parents in For the Bible Tells Me So also grasp, although sometimes too late.
* * *
In the fiction category, audiences selected Guido Thys' Tanghi Argentini, a calculated crowd-pleaser about an office worker who turns out to be a Christmas angel, as the festival's best short film. I would have chosen The Last Dog in Rwanda, Jens Assur's confident exploration of man's eternal obsession with war. After spending his childhood building military toys and enacting war games, Davis -- a dead ringer for a young Robert Downey Jr. -- is now a Swedish photojournalist on assignment in Rwanda, where he observes African boys spending their childhoods hunting down dogs because they tend to gnaw on the human corpses scattered across the countryside. Through haunting religious imagery and a quietly reflective tone, Assur skillfully navigates the gulf between a boyish attraction to war and the realities of genocide, a thesis that especially resonates at a time when even democratic governments treat the globe as their own private game of Risk.
Real conflict also feels at a remove for the twentysomething Israelis in Eytan Fox's The Bubble, my favorite fiction feature film of the festival. (I didn't catch Sven Taddicken's Emma's Bliss, the Audience Award winner.) Coordinating a rave in Tel Aviv, three hipster roommates declare, "We don't need the territories, we need to dance!" Even after one of them meets a Palestinian at a security checkpoint and falls in love, the hazards of their forbidden relationship remains outside their self-created cocoon of food, music, and gay bars. Marked by vibrant performances and surprisingly tender love scenes, much of the movie plays like an upbeat, wishful fable of cultural and sexual reconciliation -- but when the region's routine violence finally bursts their bubble, the story pivots towards a kind of magical melodrama intended to shock the audience, like the characters, out of their comfort zone. It's a bold move that, I suspect, won't work for everyone, but the overreach still communicates a youthful and contemporary vision of Middle Eastern politics.
Perhaps the strongest cycle of pictures was for the festival's celebration of guest Willem Dafoe, who was born in Appleton, Wisconsin and studied drama at the University of Wisconsin at Milwaukee before joining the city's innovative Theatre X. Rather than showcase Dafoe's most popular movies, MIFF summoned two of his peak performances, Jesus in The Last Temptation of Christ and Max Schreck in Shadow of the Vampire. The tribute, which I was unable to personally attend, also included Kurosawa's Stray Dog, a film Dafoe has cited as a major influence on his craft, and the world premiere of Anamorph, a psychological thriller in which the actor plays a guilt-ridden cop.
Worth mentioning are the following features: The Banquet, which closed the festival and bends Shakespeare into colorful wuxia melodrama; Blame It on Fidel!, which assumes a childlike point-of-view to convey how a young girl grapples with the complex and sometimes contradictory nature of political conviction; The Boss of It All, a minor office comedy from Lars von Trier; Killer of Sheep, Charles Burnett's avant-garde snapshots of a working-class black family, completed in 1977; Lady Chatterley, Pascale Ferran's earthy adaptation of Lawrence told from a conspicuously feminine perspective; OSS 117: Cairo, Nest of Spies, a pastiche of espionage films that pokes fun at how James Bond always was a bit of a dandy; The Paper Will Be Blue, a Romanian docudrama about soldiers in Bucharest on the night Nicolae Ceausescu was overthrown; Tell No One, Guillaume Canet's nimble thriller about a widow haunted by e-mails from beyond the grave; and finally Two Embraces, which attains a particular brand of melancholy in its two stories about four people in Mexico City and justified MIFF's spotlight on Mexican cinema.
Less appealing were these features: Avida, a vicious, impenetrable series of surreal sketches from Benoît Delépine and Gustave de Kervern; A Battle of Wits, a turgid, big-budget epic set during China's Warring States period; Cashback, Sean Ellis' feature-length expansion of his Oscar-nominated yet equally glib short film about love and time; Drama/Mex, which weaves three interlinked and unconvincing stories about a single night in Acapulco; Grbavica: The Land of My Dreams, an unadventurous Bosnian movie about the long-lasting effects of war; Madeinusa, which pours heavy moralism into its tale of Peruvian villagers who believe they can engage in three days of debauchery without fear of sinning; and finally The Signal, a tedious gore comedy about television transmissions that turn people into crazed killers -- although it might deserve recommendation strictly for one hilarious sequence of deadpan slapstick.
* * *
MIFF actually launched with its own slice of slapstick when the opening-night selection, the John Cusack vehicle Grace Is Gone, was pulled at the last minute by its distributor, the Weinstein Company. I wasn't able to catch the replacement film, Garth Jennings' coming-of-age comedy Son of Rambow, but by all accounts it was a better expression of the festival's stated goal of bringing unknown yet laudable pictures to Wisconsin audiences. I also didn't see the film I was most eager to see, Abderrahmane Sissako's Bamako, because the print caught fire after 15 minutes and the screening was canceled.
Equally disappointing was the absence of Six Bullets, which earlier in the year had prompted the Shepherd Express, the founding sponsor of MIFF, to name Graham Killeen the best filmmaker in Milwaukee. Six Bullets tells the story of a wanderer, one of six individuals once possessed by a demon. Needing revenge, he sets out to kill the other possessed souls and then, with the help of his young daughter, kill himself. At 30 minutes, the film may have been too lengthy for one of the festival's shorts programs, but I would have gladly dumped half of the feeble Midnight Delirium block to make room for it -- even though Killeen treats his theme of regret seriously, a midnight audience might have been primed for his weird Midwestern hybrid of comic books, Robert Rodriguez, and Wong Kar-Wai in which style is the main appeal.
New this year was the Film Movement Distribution Award, which will provide a theatrical and DVD release for one festival feature and one festival short still without commercial distribution in the United States. Since the winners were deserving -- Lanre Olabisi's August the First concerns an underrepresented population, the middle-class American black family, and Olabisi adroitly steers the story's triple mysteries towards an emotional climax; while Becky Brazil's short Sweetie, about a blue-collar British family trying to board a bus, has authentic dialogue and a visual emphasis on sight lines -- it seems unmannerly to quibble. Still, there's something disconcerting about MIFF mixing accolades with a business enterprise. The new partnership smacks of advertising masquerading as art, perhaps because the festival has always seemed a little too quick to program Film Movement product. I'm sure Olabisi and Brazil aren't complaining, but if MIFF's main initiative is to promote Midwestern filmmaking, why hop into bed with New York's Film Movement while hanging Graham Killeen and Six Bullets out to dry?
Article published 04.04.2007.
Visit milwaukeefilmfest.org for more info.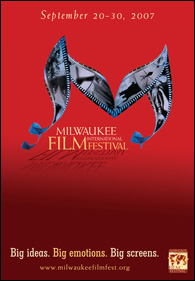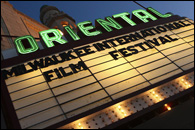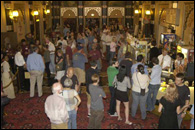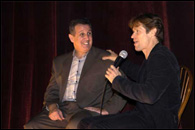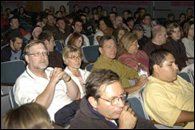 ---

---