First Milwaukee International Film Festival Exceeds All Expectations; Award Winners and Attendance Announced
Milwaukee, WI, November 17, 2003 - The first Milwaukee International Film Festival wrapped up its successful 11-day run on Sunday.
Festival organizers are pleased by how well-attended the theatres were. "We had over 13,000 attendees at the screenings, seminars, and parties, exceeding our expectations by at least 3,000 people. It definitely speaks to the significant and untapped audience for independent film in Milwaukee," said Rubina Shafi, Managing Director of the festival. "Even on cold rainy weeknights, we had a line around the block at the Downer Theatre." Several films sold out, including Chump Change and Milwaukee, Minnesota, each selling out the Main Auditorium of the Oriental Theatre (capacity 1027) for the first time since its renovation in 1987, and Bukowski, Born Into This, which sold out at the Downer Theatre. Additionally, 30 filmmakers came to town to present and discuss their films with the audience during the festival.
Award winners were announced at the invitation-only Sunday Awards Brunch at the Hi Hat Garage, hosted by Richard Schickel, esteemed film critic for Time Magazine, documentary filmmaker, and former Milwaukeean. Winners of the Mid by Midwest Competition, the only competition of its kind open exclusively to Midwestern filmmakers, were selected by 6 judges. Jury Prize, Best Feature was awarded to Iwo Jima Diary, directed by Michael Pfaendtner; and the Jury Prize, Best Short was captured by Gravel, directed by Steven Bognar.
Audiences also had a chance to vote for their favorite film at the screenings. The Audience Award for best Mid by Midwest Competition feature went to Iwo Jima Diary, by Michael Pfaendtner, and the World Cinema Showcase Audience Award went to the German film, In July (Im Juli), by Faith Akin. "The competition was fierce for the Audience Award. Festival audiences responded extremely well to the programming, with the average film rating above a four on a 1 to 5 scale, 5 being an excellent rating," said Jonathan Jackson, Program Director of the festival.
Reeling from the success of the event, organizers are already brainstorming for next year's festival.
Photos and details about the event will be posted on the website, www.milwaukeefilmfest.org, Wednesday afternoon, November 19, 2003. The mission of the non-profit Milwaukee International Film Festival, founded by Shepherd-Express, with major financial support from Argosy Foundation and We Energies, is to champion independent filmmakers and present high-quality, thought-provoking films from around the world that would not otherwise be screened in Milwaukee.
Article published 11.19.2003.
See also:
Visit milwaukeefilmfest.org for more information.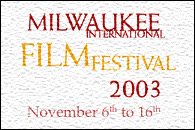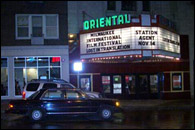 ---

---