Mouchette A
Year Released: 1967 (USA: 1970)
MPAA Rating: Not Rated
Director: Robert Bresson
Writer: Robert Bresson (based on the novel by Georges Bernanos)
Cast: Nadine Nortier, Jean-Claude Guilbert, Maria Cardinal, Paul Hebert.
"Mouchette offers evidence of misery and cruelty. She is found everywhere: wars, concentration camps, tortures, assassinations."
--Robert Bresson
Nothing could sum up Bresson's cinematic sensibility better than his quote about Mouchette, his companion piece to Au Hasard, Balthazar. Released in successive years when Bresson was at his prime, both explore many of the same themes: abuse, solitude, hatred, and loneliness. Balthazar packs a slightly more potent emotional wallop, but Mouchette is a masterpiece as well.
Mouchette, a 14-year old girl situated in a small rural community, lives a dreadful life. Her mother is dying and her father is an alcoholic. With her parents AWOL, she's forced to provide most of the care for her baby sister. Her social status at school is so low that she isn't bullied by her classmates, simply disregarded. One night while returning from school, she encounters the poacher Arsene in the woods. Arsene is agitated because he believes he has just killed the town policeman, and he takes Mouchette back to his cabin. He rapes her and uses her as an alibi for his whereabouts for the night.
Bresson sets up Mouchette's persona without any redeeming qualities. With her short pigtails and icy eyes, she's the antithesis of feminine. Early in the film, a gaggle of schoolgirls are gathered around the school sampling new perfume. Spitting on such girly acts, Mouchette throws mud at the girls. The first few times are ignored. The next lands directly on the perfume bottle, drawing looks of loathing. Mouchette's disdain for typical junior-high triviality is telling, for she lives a miserably banal existence. Death in Mouchette is completely desensitized. As Arsene describes his encounter with the policeman to Mouchette, there is no emotion in his voice. There are no raised voices, no musical accompaniments. This is Bresson's intent and it's amplified by his habit of giving his protagonists precious little dialogue. Obviously, Balthazar the donkey doesn't speak at all, but Michel in Pickpocket and Yvon in L'Argent have minimal lines as well. This leaves us on the outside looking in; we must discern for ourselves how these characters are feeling. As Mouchette is being raped, her reaction is impossible to ignore. After a brief initial struggle, she wraps her arms around him in an apparent moment of passion as the camera fades out. Considering that she calls him "her lover" near the conclusion of the picture, it's evident that her sexual relations with him were her way of striking back at a world that had abandoned her.
One of the film's most wrenching moments occurs when Mouchette's mother is about to breathe her last. Ignorant of her daughter's promiscuous activity the night before, she says, "I'm a slut. Try to be a good girl." Nine words more powerful than most movies in their entirety. When Mouchette realizes that her life is worthless, she breaks down in typical Bressonian fashion, shedding a few tears, not a melodramatic flood. But her hatred for everything knows no boundaries.
Bresson's normal assortment of lower-body shots holds a special significance here. Mouchette would have been a very daring film if made in the United States -- sexual imagery is plentiful. Schoolgirls bend over so their dresses fly up and a boy shows Mouchette his penis (Bresson uses a rear-angle shot; there is no frontal nudity).
If there's a problem with Mouchette, it's that the film may be too cold. The film ends bleakly, but unlike Balthazar, there are no signs that our lead character has achieved inner peace. For some viewers, this resolution will prove unsatisfying. However, fans of Bresson's work will find him at his finest here. Mouchette is as pure as any film to come out of the '60s.
Review published 07.14.2003.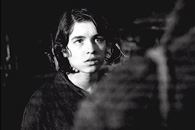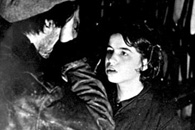 ---

---