O B+
Year Released: 2001
MPAA Rating: R
Director: Tim Blake Nelson
Writer: Brad Kaaya (based on the play Othello by William Shakespeare)
Cast: Mekhi Phifer, Josh Hartnett, Julia Stiles, Elden Henson, Andrew Keegan, Rain Phoenix, Martin Sheen.
Othello was a Moorish soldier living in Venice. He won their wars for them, so they tolerated -- even respected -- him despite his racial heritage. He even got to woo Desdemona, the daughter of a powerful senator, and loved her as no other. Then his jealous rival Iago stoked the fires of suspicion in his heart, and his life spiraled out of control. It ended badly.
Odin "O" James (Mekhi Phifer) is an outstanding basketball player, attending an exclusive prep school in South Carolina. He wins state championships for them, so they tolerate -- even respect -- him despite being the only African American in school. He even gets to date Desi (Julia Stiles), the dean's daughter, and loves her as no other. Then his jealous rival Hugo (Josh Hartnett) stokes the fires of suspicion in his heart, and his life spirals out of control.
Anyone want to bet how it ends?
Odin's story is the latest in an ever-increasing string of modernized Shakespeare plays, breathing new life into the Bard through contemporary characters and settings. Most of them demonstrate a solid competence at the very least, and O goes one better, giving us a first-rate drama punctuated by moments of real brilliance. Director Tim Blake Nelson (who played the dim-bulb prison escapee in O Brother, Where Art Thou?) aptly demonstrates how pertinent Shakespeare's work can be to modern times, giving us a thoroughly contemporary drama without losing the essence of the original text.
It starts with the setting. Othello's themes of jealousy and betrayal are right at home in a high school environment, where peer pressure and the need to fit in take on added importance. As a character, Odin becomes a catalyst for that fragile time of life. His talents on the basketball court divide him between the need to compete and the camaraderie of his teammates. He loves Desi dearly but secretly believes that he's not good enough for her. And he's the only black student in an entirely white school, which only increases his sense of isolation. Hugo, on the other hand, only sees the bright parts of Odin's life. Though he's the son of the school's coach (Martin Sheen), he lacks the skill of his rival and has been relegated to a utility player. His father dotes on Odin, while ignoring his own kin, and Hugo's begun using steroids in a desperate effort to stay competitive. The boy's envy soon develops into a murderous plan for revenge. Playing on his natural charm, Hugo begins chipping away at Odin's confidence, planting seeds of doubt that Odin himself nourishes until they dominate his life.
Nelson handles the material with measured patience, never allowing the melodramatics to get out of hand. Besides the celebrated notions of jealousy and revenge, he takes particular care with the racial issues, which require a very delicate touch. He never hammers any of his points home -- there are no raging bigots or other convenient stereotypes around -- but lets the subtle pressures of Odin's position sink in over the course of time. Shakespeare understood how racism can often lurk beneath the surface; Nelson's update ably demonstrates how pertinent that lesson remains.
In fact, the strongest parts of O survive intact from the source material, from the strength of the characters' emotions to the all-too-real flaws which ultimately destroy them. Almost none of the dialogue comes from Shakespeare and the language remains contemporary, but all of the themes, issues, and characters resonate just as strongly as they would from a classic production. Phifer does an exquisite job of keeping Odin's fears and doubts beneath the surface, and Hartnett demonstrates a decent understanding of his character, and Stiles (who's rapidly becoming the diva of modern Shakespeare) plays extremely well against Phifer's brooding lead. O has few real missteps (though a visual cue involving doves is a little heavy-handed), and if it doesn't quite reach the level of the greatest Shakespearean films, it nearly makes up for it in the thoughtful and accessible way it presents itself. That's the great thing about the Bard: reach a certain level of competence, and the material will carry you the rest of the way.
It's almost a pity this film is rated R, because teenagers stand to gain the most from a screening. It can be difficult at times to understand the pertinence of plays like Othello, with their antiquated language and dusty history. O not only demonstrates why we still read them, but how their lessons still have bearing on our daily lives. It understands its source material, and it helps us to understand it as well. As long as people love great stories, there will always be room for a movie like O.
Review published 09.03.2001.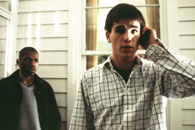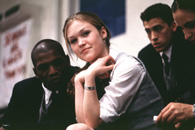 ---

---