Paris, Je T'aime B+
Year Released: 2006 (USA: 2007)
MPAA Rating: R
Directors: Olivier Assayas, Frédéric Auburtin & Gérard Depardieu, Gurinder Chadha, Sylvain Chomet, Joel & Ethan Coen, Isabel Coixet, Wes Craven, Alfonso Cuarón, Christopher Doyle, Richard LaGravenese, Vincenzo Natali, Alexander Payne, Bruno Podalydès, Walter Salles & Daniela Thomas, Oliver Schmitz, Nobuhiro Suwa, Tom Tykwer, Gus Van Sant
Writers: Olivier Assayas, Gena Rowlands, Gurinder Chadha & Paul Mayeda Berges, Sylvain Chomet, Joel & Ethan Coen, Isabel Coixet, Wes Craven, Alfonso Cuarón, Christopher Doyle, Richard LaGravenese, Vincenzo Natali, Alexander Payne & Nadine Eid, Bruno Podalydès, Walter Salles & Daniela Thomas, Oliver Schmitz, Nobuhiro Suwa, Tom Tykwer, Gus Van Sant
Cast: Fanny Ardent, Juliette Binoche, Steve Buscemi, Sergio Castellitto, Willem Dafoe, Gérard Depardieu, Marianne Faithful, Ben Gazzara, Maggie Gyllenhaal, Bob Hoskins, Margo Martindale, Emily Mortimer, Nick Nolte, Catalina Sandino Moreno, Natalie Portman, Miranda Richardson, Gena Rowlands, Ludivine Sagnier, Rufus Sewell, Gaspard Ulliel, Elijah Wood.
The capital of France certainly has no shortage of love letters, but few are as sweet and engaging as Paris, Je T'aime. It uses a rare combination of simplicity and scope to capture not one artist's vision of the city, but nearly 20. Directors as varied as Wes Craven, Gus Van Sant, and the Coen brothers each present a vignette lasting five to seven minutes, featuring a different cast of characters and set in a different Parisian neighborhood. The film gathers them all together to create a sense of how diverse the metropolis can be, both confirming and defying the assumed stereotypes in equal measure. If you've ever wondered why so many people go so moony over the City of Lights, then this breezy postcard is an excellent place to start.
Not that it's entirely perfect, to be sure. For just as one cannot embrace Paris without also tolerating the occasional arrogant Parisian, so too are the film's joys tempered with a modest helping of misfires. The two-hour running time comprises nineteen short films, of which an even dozen are well worth the money. The remainder... well, the less said about them, the better (though they have the good grace to be mercifully brief). Confined to just a few minutes, each film concentrates on evoking as much as it can as elegantly as possible, using familiar faces to set the tone before providing a quiet twist or surprise to hold our interest. Love is a favorite theme, of course, but it isn't omnipresent and it doesn't come in exclusively romantic flavors either. Indeed, the anchor of the piece (from Alexander Payne) concerns a fortysomething spinster (Margo Martindale) traveling alone through the city as part of a long-planned vacation. Paris' beauty belongs to everyone, Payne quietly assures us, and one needn't be young and amorous in order to fall under its spell.
Generally, the shorts move with delicate brevity, delivering the payoff almost as soon as they've set it up. The Coens have a sharp hold on what's required with a typically oddball tale about an American tourist (Steve Buscemi) caught in the machinations of a quasi-hostile couple while waiting for his metro train. The brothers' distinctive visual style gives them an easy leg up on the task, and it's no surprise that the film's best vignettes come from those with the strongest stamp of auteurial identity. Mexican director Alfonso Cuarón, for example, delivers his segment (featuring an old Nick Nolte in what appears to be a jealous spat with a young Ludivine Sagnier) as one unbroken shot, while German Tom Tykwer revisits Run Lola Run with the time-elapsed evolution of an actress (Natalie Portman) and her blind beau (Melchior Beslon).
Most of these segments keep the tone light, though enough are tinged with sadness and pathos to lend it all some depth. Even the darker pieces stress a sense of acceptance, however, such as Nobuhiro Suwa's examination of a mother (Juliette Binoche) mourning her dead son. Nor does Paris, Je T'aime limit itself to tourist haunts, periodically returning to the city's underclass and the struggles of disaffected outsiders. The strongest moments are usually the most unexpected, such as horror maestro Craven going wonderfully against type with a measured (and only slightly supernatural) story of grown-up romance. Canadian Vincenzo Natali brings the Grand Guignol courtesy of a whimsical vampire (Olga Kurylenko) and her would-be suitor (Elijah Wood), while Walter Salles and Daniela Thomas portray the quietly affecting hypocrisy of an immigrant nanny (Catalina Sandino Moreno) who must care for a wealthy couple's baby at the expense of her own newborn child. The subtle shift in perspective and location allows each short to seep softly into the next, connecting them all but only rarely subverting one for another.
And the successes feel more hard-won after enduring the film's small handful of failures. A brief running time means no room to recover if things go wrong, and the occasional flat moment typically arises when the necessary elements simply don't cohere. Most of them suffer from undue pretension, while the rest serve only to confirm the city's more exasperating stereotypes (beware: there are mimes... scary mimes). The final segment proves especially troublesome, making a crude attempt to link the varying threads together in an awkward bit of artifice that proves supremely unnecessary.
Even at its worst, however, Paris, Je T'aime brings a new perspective to the city at its heart. The total vision is slight at times, and even a little saccharine, but also consistently one of a kind. Though it makes a fine outing for the multiplex, I suspect its true place may be on DVD, where viewers can sample its wares like picking chocolates from a box. The film's totality springs from tiny fragmented parts, each contributing a little more to a rich and seductive whole. I'd love to see other cities of the world receive this kind of treatment -- Vienna, for example, or San Francisco if one is partial to American locales -- but no place on earth holds quite the allure of this one. Take a look at Paris, Je T'aime, and try to disagree.
Review published 05.17.2007.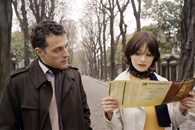 ---

---