Personal Velocity C-
Year Released: 2002
MPAA Rating: R
Director: Rebecca Miller
Writer: Rebecca Miller (based on her short stories)
Cast: Kyra Sedgwick, Parker Posey, Fairuza Balk, Nicole Murphy, Tim Guinee, Rob Leibman, Seth Gilliam, David Warshofsky, Brian Tarantina, Mara Hobel, Leo Fitzpatrick, Wallace Shawn.
Show, don't tell. It's the oft-repeated writing rule that Rebecca Miller should have brushed up on before adapting her collection of short stories into a feature-length film. Personal Velocity, which tells three stories of women at turning points in their lives, is bogged down by laughable voice-over narration that provides background info and tries to explain character motivations. The narration, presumably torn from the pages of Miller's book, is an annoying stumbling block that keeps us at an objective distance. If the narrator (John Ventimiglia) would keep his mouth shut for a few minutes, we might have time to connect emotionally with the characters and their stories. Alas, that's not happening.
In the first story, Kyra Sedgwick plays Delia, a battered wife with a "strong, heavy ass, which looks excellent in blue jeans" (ass description courtesy of our narrator, though I'm sure we could have discerned this for ourselves thanks to the leering close-ups). After years of abuse, Delia packs up her kids and leaves her asshole husband to discover, in the end, that she still has what it takes be the sexually empowered slut she was in high school. Next up, indie queen Parker Posey plays Greta, a cookbook editor who scores a career-advancing gig editing a highly acclaimed novelist's next book. But when book-editing sessions lead to groping between Greta and the novelist, her marriage to a nice but boring guy will be tested. In the final segment, Fairuza Balk's Paula, shaken after witnessing a traumatic event, picks up a hitchhiker on the way to her mother's and soon comes to a life-changing realization.
All three women at the center of the film are trying to shake off the shackles of their current lives and strike out in different directions, but as Ed Gonzalez of Slant Magazine points out, "Miller's women are less in need of independence from the men in their lives than they are in need of breaking free from themselves." It's a shame that the revelations don't have much insight or impact, even if the three actresses deliver good performances (particularly Balk, whose segment has an urgency and emotional weight that the others lack). While the film may not be a total failure, it's surprising that the winner of the Grand Jury Prize at Sundance 2002 is so clumsily executed and uninspired. Most of all, Miller's tendency to tell more than show -- and even to tell when showing -- robs Personal Velocity of the intimacy it might have had, and suggests a writer so in love with her own prose that she can't let any of it go.
Review published 12.31.2002.
Follow Michael Scrutchin on Twitter or Letterboxd.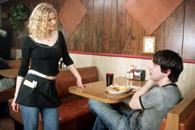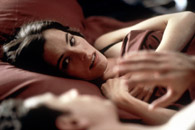 ---

---