Poetry in Motion B-
Year Released: 1982
MPAA Rating: Not Rated
Director: Ron Mann
Cast: Helen Adam, Amiri Baraka, Charles Bukowski, William S. Burroughs, Jim Carroll, Allen Ginsberg, John Giorno, Michael Ondaatje, Ed Sanders, Gary Snyder, Tom Waits, Anne Waldman.
In Ron Mann's Poetry in Motion, a 1982 documentary nearly as frustrating as it is compelling, late beatnik poet Charles Bukowski offers priceless commentary on poetry and the people who create it. "Poetry is generally very dull and very pretensive," he says. "Those who say the poet is a very private and precious person I don't agree with. Generally he's just a dumb fiddling asshole writing insecure lines that don't come through, believing he's immortal, waiting for his immortality which never arrives, because the poor fucker just can't write." Whether or not the poets who perform their work in this film fit Bukowski's generalization or succeed as skillful and evocative wordsmiths is sure to cause debate, but the various ways they attempt to bring their work to life is often interesting to watch.
Featuring 24 contemporary poets (including Amiri Baraka, William S. Burroughs, Jim Carroll, Allen Ginsberg, Anne Waldman, and singer-songwriter Tom Waits), the film juggles short interview segments with scenes of the artists performing their work. The performances take place either on a set (a room walled with wooden planks, shafts of light cutting through in the back) or live in front of an audience at a bar or club. I'm inclined to agree with Bukowski that poetry is generally dull, but many of the performances here are entertaining mainly because of the fervor and wit the artists put into it. Even if the way Anne Waldman belts out her poetry is grating (to say the least), it's like a car wreck you can't turn away from. Others aren't as captivating, reinforcing the notion that poetry is often unbearably dull. Still, enjoyable highlights include Jim Carroll's soft yet impassioned reading and Allen Ginsberg's quasi-punk performance with a band while college kids boogie down in front.
Poetry in Motion is one of four Ron Mann documentaries recently released on DVD by Home Vision Entertainment. The DVD includes over an hour of additional performances from some of the artists featured in the film, a short interview with Mann, and trailers for Grass, Comic Book Confidential, and Twist (the other three Mann films now on DVD). Overall, Poetry in Motion has its ups and downs. While the downs may be a surefire cure for insomnia, the ups are frequently dazzling, and prove that even some of the poor fuckers who just can't write can still give their work a life in performance that simply can't be captured on the page.
Review published 08.07.2002.
Follow Michael Scrutchin on Twitter or Letterboxd.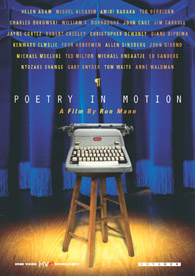 ---

---