Ravage B
Year Released: 1997
MPAA Rating: Not Rated
Director: Ronnie Sorter
Writers: Bryon Blakely, Ronnie Sorter
Cast: Mark Brazeale, Dan Rowland, Dina Harris, Frank Alexander.
The sophomore outing from Sinistre director Ronnie Sorter, Ravage is a brutal, ugly, and uncompromising revenge thriller reminiscent of all those grim urban actioners from the 1980s. After seeing his two daughters murdered at the hands of a psychopath, a recently widowed man (Mark Brazeale) takes the law into his own hands on an obsessive quest for vengeance. Made on the cheap and shot on video, Ravage is rough around the edges, but its fiery intensity and well-executed action scenes make up for most of its no-budget shortcomings. Taking a cue from John Woo's Hong Kong ballets of violence, a blood-spattered shootout in a police station achieves a nasty, visceral kind of poetry. Sure, Brazeale's performance is a little weak and the film never transcends its formulaic conventions, but this is fast-paced, gritty action filmmaking that delivers. The DVD from Sub Rosa Studios includes two commentary tracks, outtakes, and behind-the-scenes footage.
Review published 11.25.2002.
Follow Michael Scrutchin on Twitter or Letterboxd.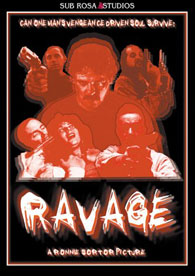 ---

---