Red Dragon B
Year Released: 2002
MPAA Rating: R
Director: Brett Ratner
Writer: Ted Tally (based on the book by Thomas Harris)
Cast: Anthony Hopkins, Edward Norton, Ralph Fiennes, Harvey Keitel, Emily Watson, Mary-Louise Parker, Philip Seymour Hoffman.
Once more we return to the devil's den. We're called again to walk down that long, dark passageway, lined with cells of the demented and the damned, to face an elegant, charming, utterly irresistible horror named Hannibal Lecter. Will we ever get tired of making that trip? We've done so three times before, with results ranging from the transcendent to the banal. Red Dragon believes we'll take it again, and for the most part, doesn't make us sorry for the effort. It's certainly no Silence of the Lambs, but then how could it be? That film captured lightning in a bottle, attaining an iconic state to which only a tiny handful of films can even aspire. Neither is it Manhunter, Michael Mann's taut 1986 version of the same Thomas Harris novel on which Red Dragon is based. But it perseveres beneath the shadow of these giants, blending elements of past efforts to find its own unique rhythm. Indeed, part of the pleasure of Red Dragon comes from watching it mix different parts of the Lecter mythos to see what it can produce.
The names are subtle, but telling: screenwriter Ted Tally, who won an Oscar for penning Silence; cinematographer Dante Spinotti, who shot Manhunter; supporting players Anthony Heald and Frankie Faison, gleefully reprising their earlier roles in the series... and of course, Anthony Hopkins. Ten years older (though the film is set several years before Silence), but still utterly mesmerizing as psychiatrist, man-eater and incarnation of pure evil Dr. Hannibal Lecter. We first see him on the eve of his capture, attending a symphony performance and sizing up the orchestra like sides of beef. He's the toast of Baltimore, his dinner parties are legendary, and he even does freelance profiling for the FBI. Special Agent Will Graham (Edward Norton) is consulting with him on a serial killer case. Graham stops by one evening to share a theory, only to realize that the cannibal murderer he's hunting is sitting across the desk from him. The incident ends "rather messily" in Lecter's words, leaving Graham physically and emotionally scarred and the good doctor locked away forever.
Even in these early scenes, Red Dragon's efforts bear fruit. Director Brett Ratner, a veritable amateur compared to the likes of Jonathon Demme and Ridley Scott, is smart enough to notice new wrinkles in the story, yet canny enough to let his experienced team help him bring them out. While Manhunter focused solely on the science of crime solving, and 2000's Hannibal wallowed in melodramatic excess, Red Dragon seeks the middle ground of Silence: trying to convey the inner mind of human monsters within the framework of a police thriller. Hopkins kicks it off brilliantly, playing Lecter with faux compassion that almost perfectly masks the unspeakable soul within. When the facade falls, his facial expression is far more shocking than any pounding score or flashy edit. Ratner takes that performance as a starting point and adds to it another hunting match between the FBI and a colorful serial killer. Several years after Lecter's capture, Graham returns to him, still hoping to use his expertise in the search. Norton, haunted eyes swimming above a suit too big for him, looks remarkably Clarice Starling-like as he approaches Lecter's cell (a far cry from William Peterson's hulking Graham in Manhunter). His task matches hers very closely. This new killer hunts by the full moon, and Graham wants his old consultant's help to catch him before he strikes again. Lecter, of course, has conditions. His ego has been wounded by his capture -- he's still seething that anyone could have possibly caught him -- and he seizes the opportunity to even the score with Graham. Lecter always worked best locked in his cage, forced to overcome the particulars of his incarceration, and Red Dragon provides a terrific foil for him in Graham. Norton and Hopkins develop a strong rapport, and Ratner lets them explore their characters without losing sight of the strong "find the killer" mystery around them.
He also finds interesting ground in the killer they seek, something none of Red Dragon's predecessors quite managed. The so-called "Tooth Fairy," played by Ralph Fiennes, is perhaps as close to sympathetic as such a figure can get. His psychosis emerges from an immense self-loathing, an insecurity so strong that he must commit murder in order to transcend it. He's smart enough to elude the authorities, but some small part of him longs to be caught. The script shoulders him with some silly clichés (an ogre-like grandmother, a dilapidated house), but Fiennes brings such strength to the role that we believe in him despite the chestnuts. His relationship with an unsuspecting blind woman (Emily Watson) evokes pathos and sympathy even as he plans his next killing spree. Watson, too, delivers a strong performance -- one of a seemingly endless array that Red Dragon trundles out. The film splits its time between the Toothy Fairy's inner struggle and Graham's efforts to find him, using Lecter as a common link. With the cast so ridiculously strong, Ratner has little to do but shuttle back and forth between them, and reap the rewards.
Still, it's not perfect. Soap opera overkill bubbles constantly under the surface, threatening to rupture the film's delightfully creepy mood. With so much emphasis on the acting, you can sense Ratner fighting to keep a rein on his performers, to turn their strength into genuine characters instead of overindulgent theatrics. He succeeds far more often than not, but every now and then, his hand slips, leaving a few embarrassing moments of sturm und drang that the film could do without.
Then again, any stew this heady is bound to burn a few ingredients. So loaded has this material become -- so strangely beloved by so many people -- that any effort to make further contributions is fraught with peril. One look at Hannibal will tell you how bad it can get. But Red Dragon has too much going for it, its cast and its story too well-tuned, to let a few pompous moments ruin an otherwise solid endeavor. Imperfect? Yes, but also intriguing and honorable, a worthwhile addition to a distinguished film legacy. Ratner should be congratulated for letting Red Dragon find its own voice without losing touch with its past... and for reminding us why the man at the end of the corridor scares us so much.
Review published 10.07.2002.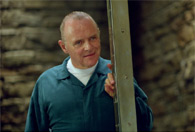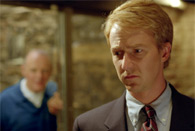 ---

---