Savage Harvest 2: October Blood B
Year Released: 2007
MPAA Rating: Not Rated
Director: Jason Christ
Writer: Jason Christ
Cast: Emily Haack, Benjamin Gaa, Eric Stanze, David Propst, Jonathan Baker, Julie Farrar, Anna Knobeloch, Eric Spudic.
Savage Harvest (1995) was an early shot-on-video gorefest by Eric Stanze, the talented filmmaker and head of Wicked Pixel Cinema who would later secure his reputation in underground horror with fierce, disturbing shockers like Ice from the Sun and Scrapbook. In many ways, Savage Harvest was your typical demonic-possession romp with a cast of doomed teenagers -- The Evil Dead, only steeped in Cherokee mythos -- but Stanze's considerable passion behind the camera made all the flesh-eating, throat-ripping, chainsaw-roaring carnage seem fresh and exciting. The sequel, written and directed by first-time feature filmmaker Jason Christ, builds upon Stanze's movie while establishing its own voice.
In Savage Harvest 2: October Blood, the weight of the blood-soaked tragedy wrought in the original looms over the proceedings like a harbinger of terrible things to come. Ditching the fast and furious Evil Dead vibe of its predecessor for a somber mood of loss and regret, Christ puts the focus squarely on the two main characters, each battling their own demons as the movie begins. In the wake of a personal tragedy, indie filmmaker Tyge Murdock (Benjamin Gaa) returns to his Missouri hometown to do a little soul-searching -- only to run into the troubled Ashley Lomack (Emily Haack), a former girlfriend he hasn't seen since high school. Ashley is the younger sister of Mikki Lomack, the sole survivor of the massacre that took place in the original movie. Mikki committed suicide shortly after the massacre, but she made a chilling farewell videotape for Ashley just before killing herself, which Ashley receives in the mail from an unknown sender just before Tyge arrives back in town. Shocked by the videotape, Tyge, Ashley, and a couple of friends become ensnared in the mystery surrounding the original massacre, which, of course, leads to another demon-fueled bloodbath.
While the movie eventually loses its grip on the melancholy atmosphere and character-based drama that makes the first half so engaging, the final-act carnage is suitably suspenseful, gory, and vicious. Just wait till Emily Haack breaks out the chainsaw. If some character threads get lost along the way, so be it: Savage Harvest 2 is a horror sequel that earns its existence with genuine heart and soul, rather than gallons of blood and flying body parts. But it has that too.
The two-disc collector's edition DVD from Elite Entertainment is an excellent, well-rounded package. Despite being shot on standard-resolution digital video, Savage Harvest 2 looks good, and the transfer brings out the evocative autumn colors of the midwestern landscapes which give the film much of its atmosphere. The first disc includes three feature commentary tracks -- the first with writer-director Jason Christ; the second with Christ, executive producer Eric Stanze, and special effects artist Patrick Voss; and the third with actors Stanze, Emily Haack, Benjamin Gaa, and David Propst. The second disc includes a 70-minute making-of documentary, deleted scenes, outtakes, a stills montage, and three short films by Christ ("The Quiet Place," "Vision," and "Blurred"). Rounding out the package are trailers for other films produced by Wicked Pixel Cinema, including Eric Stanze's upcoming Deadwood Park, which looks like it could make a killer Halloween double feature with Savage Harvest 2: October Blood.
Review published 09.25.2006.
Follow Michael Scrutchin on Twitter or Letterboxd.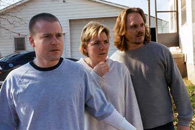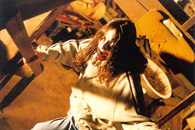 ---

---