Sexy Beast D-
Year Released: 2001
MPAA Rating: R
Director: Jonathan Glazer
Writers: Louis Mellis, David Scinto
Cast: Ray Winstone, Ben Kingsley, Amanda Redman, Cavan Kendall, Julianne White, Ian McShane, Alvaro Monje, James Fox.
You know how on a really hot day you can get to sweating, and that will secrete itself in your clothes to the point where you're a walking, talking blend of noxious B.O.? Sexy Beast leaves one with the same revolting sensations. Yes, comrades, this is one of the least watchable films of 2001.
Superb music video director Jonathan Glazer's visual approach is a cross between sun-baked realism (baring every pore in the poor actors' skin) and bizarro-surrealism. The mix doesn't mesh, and even if it did, the effect would barely cause a blip in the tired old gangster doesn't want to do the last great heist big score melodrama that has been done to death since Quentin Tarantino's Reservoir Dogs nailed the lid on the coffin back in the early '90s. (Way back in a time when Independent Film was all the rage. It was all a lot of nonsense, really. QT made some fine films, then everyone started making QT films, then it all went to hell.) No more heist films, please!
Formidable heavyweight Ray Winstone (thankfully not playing another abusive dad, as he did -- very well -- in Nil By Mouth and The War Zone) is cast against type as sad-sack Gal, a former London mob goodfella who just wants to cook under the Spanish sun in his lovely hacienda, enjoying the domestic bliss with wifey-wifey and his "Curious George" young son. Alas, it was not meant to be. His old pal, mean bastard Don Logan (bald Ben Kingsley, whose stylized performance was labeled "The Anti-Gandhi" by witty critics) comes a courting to ask him -- no, tell him, to do this Last Job. This goes on for a good hour, and not much happens in the duration. Sample dialogue:
KINGSLEY: Do the job.
WINSTONE: I won't do the job.
KINGSLEY: Do the job.
WINSTONE: I won't do the job.
KINGSLEY: Do the job.
WINSTONE: I won't do the job.
KINGSLEY: Do it!
WINSTONE: I won't!
KINGSLEY: Do it!
WINSTONE: I won't!
KINGSLEY: Do it!
WINSTONE: I won't!

I'm not kidding! Scenes such as the one above drone on for five-minute stretches at a time, wanting so desperately to be David Mamet. (In fact, Mamet himself is working on his own heist movie with Gene Hackman, Delroy Lindo, and Danny DeVito. Boy, do I hope that doesn't suck.)
Sexy Beast proves to be a bloody inconsequential, derivative bore, as cheeky and one-note as Ben Kingsley's mannered, macho, machine-mode, motor-driven performance. There's no fuel in his engine, nor is there any in Glazer's posturing. The opening image (after we're treated to an unappealing extreme close-up of Winstone's speedo) is a giant boulder falling into a swimming pool -- the simple life shattered by force. It could also be read as Sexy Beast crashing into your local art house and sinking like a giant stone to the bottom of the lake, right where it belongs.
Review published 07.10.2001.
For another opinion, read Rob Vaux's review.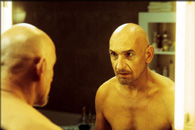 ---

---