Sleuth C+
Year Released: 2007
MPAA Rating: R
Director: Kenneth Branagh
Writer: Harold Pinter (based on the play by Anthony Shaffer)
Cast: Michael Caine, Jude Law.
If Kenneth Branagh's remake of the Anthony Shaffer play Sleuth is flawed, it's certainly a high-minded sort of flawed. The word "reimagining," so cynically deployed in the name of every lazy new version of a much better cinematic classic, actually has bearing here. The filmmakers genuinely seek some new tricks for this old dog, and have the talent both behind and in front of the camera to pull it off. So when it works, it works spectacularly well, and when it fails -- as it sadly does at a few too many key points -- at least they're the failures of full-bore effort.
The original play entailed a series of vicious head games between a cuckolded husband and his wife's new lover. Sleuth keeps those basics intact while filtering the specifics through a new script courtesy of renowned playwright Harold Pinter. When young, bright-eyed Milo Tindle (Jude Law) arrives at the country estate of bestselling author Andrew Wyke (Michael Caine), he doesn't want trouble. He just wants to sit down with the old man, emphasize the need for a clean and painless divorce, maybe throw some of the gal's clothes into a suitcase... basically settle things properly. Wyke, however, isn't the sort of man who gives up anything without a fight. Having lost his woman, he's determined to humiliate the thief who claimed her through an astounding and increasingly merciless clash of wits that may end with one or both of them in the morgue.
Though overly theatrical, the scenario brims with juicy, savage potential -- especially in the hands of a pair of actors this good. Caine played Tindle in the first film opposite Lawrence Olivier, and fans of that version may be fascinated by the changes on display here. The original Sleuth couched their battle in terms of class differences, as the aristocratic Olivier chaffed at the thought of a cockney bloke hustling his lady love out from under him. In Caine's hands, that resentment remains, only now it's been twisted into a mirror opposite. His Wyke comes from the same working-class stock as his Tindle did. The books he writes have brought him money, fame, and a fair amount of taste (judging by the severely modernist trappings of his estate), but on some level he'll never be accepted by his upper-class peers. The anger at that injustice seethes beneath the surface of Caine's performance, driving him to all manner of infernal machinations. Law, of course, makes a fine foil to challenge such a will. Comparisons between the two come easily -- even before Law borrowed Caine's iconic turn as Alfie -- and one can readily see how Wyke might be disturbed by a younger, sexier version of himself laying siege to all he's acquired. Once Tindle realizes that his elder rival plays for keeps, he proves no less capable of going for the throat.
Beneath the performances, the film's larger problems come cloaked in additional assets... notably Pinter's screenplay. He maintains Shaffer's original twists and turns while adding some very meaty dialogue to give the piece a proper distinctiveness. The most notable change involves a strong streak of homoerotism, delivered with Pinter's unique flair and rendering overt what the earlier version never quite seemed aware of. Yet while his work here reminds us how rare good writing can be, it also clashes with Shaffer's vision far more often than it should. The changes thrust themselves awkwardly through the original structure, adding a strange, queasy tone that never quite clicks. The issue grows thornier the further the film goes: the last 20 minutes feel like something out of an entirely different play, prompting confused head-scratching rather than sumptuous enigma. Ironically, such an issue may have never come to light were the writer less distinguished or his auteurial stylings less intense.
Branagh attempts to hold it together by directing Sleuth to within an inch of its life. The stark walls and copious electronics of Wyke's lair make for a fine psychological atmosphere -- merciless surfaces hiding all manner of dangerous secrets beneath. But the camerawork becomes overly technical far too often: clever less in elevating the scenario than in providing a gimmick for its own sake. It saddles the film with undue artifice, preventing us from becoming more fully engrossed in the drama before us. As we move into the third act and the need for a big showstopper looms larger, the sheer relentless focus of Branagh's eye combines with the film's other detriments to bring it all to a distinctly unsatisfying conclusion.
And yet, for such a mixed bag, Sleuth still raises the bar for what we should expect from the movies. Its duel of wills remains fiendish and the actors tear into their duties with uncommon zest. That it can't measure up to the original, or even deliver on its own considerable promise, shouldn't discount the very sharp material intertwined throughout. It carries more in 86 minutes than many films can find in three hours. I can't quite bring myself to recommend it, but I suspect its assets will remain undiminished by either time or multiple viewings, and while the cons do finally outweigh the pros... oh what marvelous pros they are.
Review published 10.12.2007.
Read the Q&A with Kenneth Branagh & Michael Caine.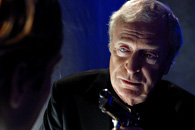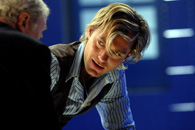 ---

---