Stir of Echoes B
Year Released: 1999
MPAA Rating: R
Director: David Koepp
Writer: David Koepp (based on the novel by Richard Matheson)
Cast: Kevin Bacon, Kathryn Erbe, Illeana Douglas, Liza Weil, Kevin Dunn, Zachary David Cope, Lisa Lewis, Eddie Bo Smith Jr.
Stir of Echoes was the second 1999 release to feature a kid who sees dead people, but there's no way this movie is ripping off The Sixth Sense. The novel it's based on, Richard Matheson's A Stir of Echoes, was published in 1958, and besides, the story isn't even focused on the kid. In fact, Stir of Echoes owes quite a debt to Kubrick's The Shining (it featured a kid who saw dead people, remember?), and Kevin Bacon's slowly-going-mad performance kinda resembles Jack Nicholson's classic role in Kubrick's masterpiece. That said, Stir of Echoes is still a satisfying thriller on its own, but it's nothing we haven't seen before.
Kevin Bacon plays Tom Witzky, a regular guy depressed by how ordinary his life is. He's a telephone lineman, but he also plays in a band and once had dreams about becoming famous. His wife, Maggie (Kathryn Erbe), is satisfied with their "normal" life together in a small blue-collar neighborhood where everyone knows everybody else. They have a young son, Jake (Zachary David Cope), who often talks to people that others can't see. We realize he's talking to ghosts when he asks, "Does it hurt to be dead?"
At a party one night, Tom lets his sister-in-law hypnotize him -- and his life is turned inside out. A doorway to his subconscious is opened, and he starts seeing terrifying, almost indecipherable visions of violence. He tries to shake it off, but the visions keep getting worse, even interrupting his lovemaking sessions with his wife. All this makes Tom develop an unquenchable thirst for orange juice (don't ask 'cause I don't know). As time passes, the visions become longer and more real, and it becomes clear that the ghost of a runaway teenage girl is trying to tell him something. Something that will unlock a terrible secret from the past.
Tom's son immediately senses his father's new gift. "Don't be afraid of it, daddy," he tells him. The father-son relationship that develops between them is interesting and unique, but this leaves poor mom feeling neglected. As Tom becomes more intent on doing what his visions tell him to do (digging up the backyard and demolishing the basement, for instance), their marriage begins to suffer.
There's an underdeveloped subplot about a nice, telepathic black guy (Eddie Bo Smith Jr.) who meets little Jake and senses his gift (hmm...sounds like The Shining to me), but nothing really happens with this part of the film. It just provides some unnecessary exposition (to spell things out for the generally dumb moviegoing public), but it could have developed into something interesting. Oh, well.
As a horror-thriller, Stir of Echoes delivers the goods for the most part. It kept me jittery and on edge most of way through, and even delivered some nervous laughs. It's a fun ride, and the hypnosis scenes are really cool -- especially the second one, just be prepared. Stir of Echoes is ultimately an old-fashioned ghost story. You might figure out the answer to the mystery 20 minutes before Tom does, but the climax is still exciting, if not over too quick.
With this film, writer-director David Koepp has made another smart, satisfying thriller to be placed alongside his first directorial effort The Trigger Effect (1996). Forget about comparisons to The Sixth Sense because Stir of Echoes is a good little movie on its own, got that?
Review published 02.25.2000.
Follow Michael Scrutchin on Twitter or Letterboxd.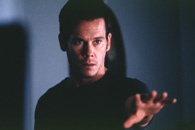 ---

---