Sweeney Todd: The Demon Barber of Fleet Street B
Year Released: 2007
MPAA Rating: R
Director: Tim Burton
Writer: John Logan (based on the musical by Stephen Sondheim and Hugh Wheeler)
Cast: Johnny Depp, Helena Bonham Carter, Alan Rickman, Timothy Spall, Sacha Baron Cohen, Jayne Wisner, Jamie Campbell Bower, Edward Sanders, Laura Michelle Kelly.
Sweeney Todd is a simple matter of the right man for the right job. Purists may quibble at its incidental changes in tone and visual style from Stephen Sondheim's original musical, but few could contest how tailor-made director Tim Burton is for such a grand and ghoulish endeavor. When his psychopathic protagonist (Johnny Depp) extends a silver razor and proclaims "at last my arm is complete again," you can hear Burton echoing the same sentiments about the film surrounding him.
As a musical, Sweeney Todd feels strangely aberrant. How many Broadway hits can you name that center around mad slashers and cannibalism? Sondheim and co-creator Hugh Wheeler succeeded by cannily adopting Grand Guignol romanticism mixed in with horror, tragedy, and the blackest of black humor to create the toe-tapping story of a blood-soaked monster. To Burton, Sweeney Todd is a dream come true: a gothic setting, a misunderstood outsider, a structure that favors mood and spectacle over plot, and a pair of plum roles for his favorite leading man Depp and his Lydia Dietzian paramour Helena Bonham Carter. We just have to step back and let him work. The results come as a matter of course.
And of course, they come with a generous splattering of blood. Burton's preferred visual palate of dark blacks and pale whites is overlaid with oceans of spurting veins, rendered not in the deep crimson of Sleepy Hollow but the Technicolor brightness of Hammer's Dracula films. It adds a lush, sickening tenor to the expected gloom, broken only by the bright blue of co-star Sacha Baron Cohen's costume and a brief, whimsical departure to a fairy-tale beach. The rest of the time, Sweeney Todd sinks us into the pits of London -- just up the road from Jack the Ripper's haunts -- where life is cheap and no one asks what's in the pies. Here, the world-weary Todd returns from an unjust prison sentence, longing to be reunited with his wife and daughter. But the fiendish Judge Turpin (Alan Rickman), who framed him in order to seduce the family out from under him, has driven the wife to take arsenic and now holds the daughter as a "ward" until she becomes old enough to marry. Todd's only friend is Mrs. Lovett (Carter), his one-time landlady who runs a failing restaurant featuring "the worst pies in London" and keeps an unrequited torch burning for the man he used to be. He wants revenge, and if the judge won't fall under his blade right away, he'll make do with any test subject who wanders into his shop. She needs a boost in her business, but with times the way they are and meat so expensive, it's hard to find the right ingredients. Eventually, a gruesome but mutually beneficial answer to both their dilemmas will arise.
Burton's love for the misanthrope in all of us takes unbridled joy in that arrangement, lending him energy aplenty for the film's copious musical numbers. Ninety percent of the dialogue is sung (though you'd never know it to watch the previews), which the director embraces as a natural extension of his decrepit Victorian setting. The choreography remains quiet, eschewing elaborate showstoppers for intimate waltzes and duets. They grow repetitive at points, but never wearying, bolstered by an inherent understanding of the required tone. Sweeney Todd's inescapable sadness arrives early on, and remains a counterbalance against his increasingly monstrous behavior. Depp's decent singing voice is aided by his fierce, wounded eyes as he descends -- number by number -- from righteous agent of vengeance to indiscriminate butcher. Never once does he lose the character's shattered heart, allowing complicit audience sympathies to slip us into his hands as effortlessly as his victims. And whenever anyone else threatens to steal the show (as Cohen's devious fellow barber and Timothy Spall's odious henchman do) he and Carter can just take the interloper for a whirl in his modified chair and add the remains to the menu.
It's the moments that depart from the central couple when Sweeney Todd loses its footing. A subplot involving Todd's daughter (Jayne Wisener) and the young sailor (Jamie Campbell Bower) attempting save her from Turpin becomes an interminable drag. Burton seems as bored by their twue wuv shenanigans as we are, and while they provide a needed ray of hope amid the shadows, the film seems all too eager to cut back to the brooding Todd. Fault for that likely lies in Sondheim's original, and such elements likely serve the story better under a more hopeful vision. But Burton has played this game too long for us to expect anything else, and while he keeps the lighter notions in their proper place, this is not a world where happiness endures.
Thankfully, it's still a world that can pull us in and hold us rapt. The gallows humor and iconoclastic winking stay in the spirit of the bleaker material, granting precious relief without undoing the operatic tragedy which Sweeney Todd has labored so hard to create. It may not be Burton's best film, or his most innovative, but it always stays faithful to his uniquely haunted soul. We've grown very accustomed to it over the past 20 years, and in a Christmas movie season as bleak and downbeat as this one, we'd be a fool not to invite the man to the party. The cast and crew of Sweeney Todd endeavor to keep the promises they make, smiling seductively and assuring us that the razor behind their back is strictly for medicinal purposes. Our long winter nights wouldn't be as deliciously chilly without them.
Review published 12.22.2007.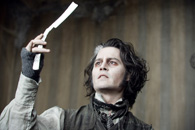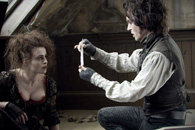 ---

---