The Three Marias C+
Year Released: 2002 (USA: 2003)
MPAA Rating: Not Rated
Director: Aluizio Abranches
Writers: Heitor Dhalia, Wilson Freire
Cast: Marieta Severo, Júlia Lemmertz, Maria Luisa Mendonça, Luíza Mariani, Carlos Vereza, Enrique Díaz, Tuca Andrada, Wagner Moura.
Right from the start of The Three Marias, you can feel the epic sweep director Aluizio Abranches is going for. As we see the silhouettes of a man and woman arguing atop a quiet, desolate mesa with the vast, mountainous Brazilian countryside looming in the background, the slow rumbling of tribal drums on the soundtrack gives way to a lush, wonderfully melodramatic score. The woman, Filomena (Marieta Severo), rejects the man, Firmino (Carlos Vereza), leaving him pissed off and heartbroken. Firmino is so upset that he gets his two sons to murder Filomena's husband and two sons. When Filomena receives the news, she instructs her three daughters -- all named Maria -- to track down three notorious hit men to kill Firmino and his sons and, of course, to bring her their heads.
While there's a stirring sense of urgency and purpose that drives the first act, a plodding pace and stagnant character development do nothing to keep things engaging as it ambles toward its predictable conclusion. While each of the super-badass hit men have amusing quirks -- one of them refuses to speak directly to women and uses a guy-pal as a go-between -- they, like all the other characters, never achieve any depth or resonance. Luckily, Marcelo Durst's beautiful widescreen cinematography captures the stark, dusty Brazilian backcountry in such lurid detail that The Three Marias drips with atmosphere. The imagery, at least, helps maintain interest when the film starts to lag a bit in the middle.
Abranches doesn't shy away from graphic violence and gore (we see a dead guy strung up by his own entrails, someone being burned alive, and a few bloody shootings), but he also knows when to keep the violence at a distance. This is a double-edged sword, as the opening's urgency seems to be driving towards an intense, Peckinpah-style bloodbath that never comes. Laced with biblical references and musings on destiny and divine retribution, The Three Marias is ultimately a tragic and darkly humorous fable that hammers home the message that revenge never solves anything. Shouldn't we all know that by now?
Review published 05.30.2003.
Follow Michael Scrutchin on Twitter or Letterboxd.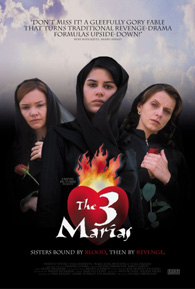 ---

---