Trembling Before G-d B
Year Released: 2001
MPAA Rating: Not Rated
Director: Sandi Simcha Dubowski
Cast: Shlomo Ashkinazy, Rabbi Steve Greenberg, Rabbi Dr. Nathan Lopes Cardozo, Naomi Mark, Rabbi Shlomo Riskin, Dr. Yaakov Meir Weil.
It could be a new Woody Allen comedy: If the Torah forbids homosexuality, what do we make of gay and lesbian Jews who cling to their Hasidic or Orthodox beliefs? Alvy Singer might wonder why you would desire to belong to a faith that rejects who you are, but for the people featured in Sandi Simcha DuBowski's documentary Trembling Before G-d, their struggle to reconcile sexual identity with religious identity is no joke. Instead, it's the central crucible of their lives, a circle of hell that burns away any hope of happiness.
What heats up their torment is the knowledge that their love of Judaism will never be fully reciprocated. Despite their best arguments, strict custom and theology is never going to make room for them, and several of DuBowski's subjects seem resigned to this fact. Most compelling is 58-year-old Israel, who asks with an acquiescent voice, "How can you be queer and Orthodox at the same time?" His solution is to vacate the religious community, and, like most of the people here, remain estranged from his family. Since faith also seconds as an anchor to family and tradition, Israel's decision confers a sense of loss and isolation that I think everyone can relate to, regardless of sexual preference. This is a film about the ways that religion, family, society, love, joy, self-hatred -- and yes, sex -- commingle as human activities that cannot be compartmentalized.
Unlike Israel, the young David isn't willing to accept outsider status. Determined to yank Judaism into the rainbow, he confronts the rabbi who, 20 years earlier, advised him to practice aversion therapy -- whenever he felt urges, he should snap a rubber band against his wrist. This prickly conversation inflicts its own welts: Close to tears, David flails about in a doomed -- yet for him, necessary -- enterprise. Still, I don't think DuBowksi means to expose the cruelty of intolerance. What's most fascinating about Trembling Before G-d is the way it shatters stereotypes not about homosexuality but about fundamentalism: While the rabbis and families preserve their religious convictions, it's clear that most contain reservoirs of empathy for the dilemma facing people like David. In his case, the rabbi seems equally conflicted, unsure of how to extend compassion to him.
What ultimately emerges is a complex portrait of a culture beholden to ritual and law, but also wracked with confusion regarding the mystery of homosexuality. That DuBowski demonstrates respect for that puzzlement -- and finally reads it as hopeful -- distinguishes Trembling Before G-d from pictures that scuffle with intolerance by engaging in their own form of vilification. Like a good preacher, he leads by example.
Review published 01.26.2003.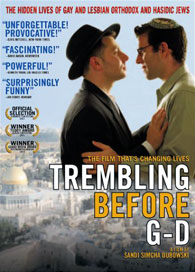 ---

---